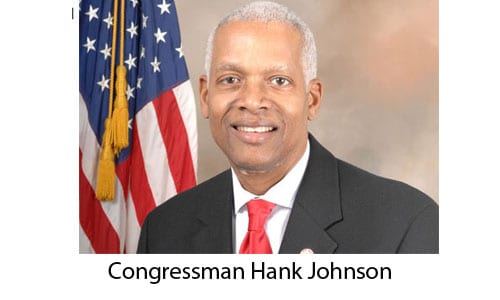 WASHINGTON, D.C. —As the 60th anniversary of the first Freedom Rides was observed on Tuesday (May 6), Congressman Hank Johnson (GA-04), chair of the Judiciary Subcommittee on Courts, Intellectual Property and the Internet, reminded his colleagues that he has a resolution calling on Congress to award the Freedom Riders the Congressional Gold Medal.
More than 60 members of Congress – including more than a dozen members of the Congressional Black Caucus (CBC) – joined Johnson as original cosponsors of the bill introduced in February 2021.
The Freedom Rides, which lasted from May to November 1961, included more than 400 black and white Americans who risked their lives to challenge Jim Crow laws – particularly public transportation – in the South. Despite enduring vicious attacks and imprisonment for simply traveling together on buses and trains as they traveled through the Deep South, the Freedom Riders challenged bitter racism and mob violence with nonviolent activism.
"In our modern movement for equality and racial justice, recognizing the sacrifices and bravery of our forebearers helps us understand our past and envision a more equitable, bright and just future for all," said Rep. Johnson.
"The original riders – including my constituents Mr. Hank Thomas and Mr. Charles Person and my dear friend and former colleague Rep. John Lewis – endured insults and beatings and risked their lives 60 years ago because they believed in a different future for their children and their grandchildren."
The 13 original Freedom Riders, who departed on the morning of May 4, 1961, were: Genevieve Hughes Houghton, Charles Person, Hank Thomas, John Lewis, Edward Blankenheim, James Farmer, Walter Bergman, Frances Bergman, Joseph Perkins, Jimmy McDonald, Mae Francis Moultrie, Benjamin Elton Cox, and Albert Bigelow.
If approved by Congress, the Freedom Riders would receive the medal as a group and it would be displayed at the Smithsonian Museum.
Cosponsors (61), including: Reps. Bass, Beatty, Bishop (GA), Blumenauer, Blunt Rochester, Bourdeaux, Bowman, Brown, Bustos, Butterfield, Carson, Cicilline, Clarke (NY), Cooper, Dean, DeSaulnier, Eshoo, Espaillat, Evans, Grijalva, Hastings, Hayes, Jayapal, Bernice Johnson, Jones, Khanna, Kilmer, Kuster, Langevin, Lawrence, Lee (CA), Lowenthal, Maloney (NY-12), Meeks, Meng, Moore (WI), Morelle, Nadler, Napolitano, Neguse, Norton, Payne, Peters, Pocan, Porter, Rush, Sarbanes, Scanlon, Schakowsky, Sewell, Soto, Speier, Strickland, Suozzi, Thompson (MS), Titus, Velazquez, Watson Coleman, Welch, Williams (GA), Yarmuth.
Rep. Johnson video: https://twitter.com/RepHankJohnson/status/1389598615815999492