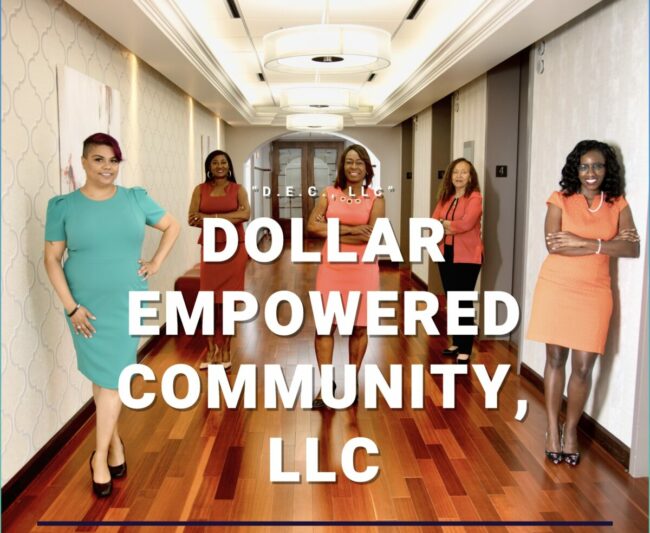 Front, L-R: Amy McCoy, Teresa Hardy(center) and Dar'shun Kendrick; Back L-R: Stacey Thibodeaux and Edwina Clanton
ATLANTA— "It's time for us to start investing in our communities again—even during a pandemic," says Attorney Dar'shun Kendrick.   "There are those that don't have high prospects for black wealth in the coming years but the Dollar Empowered Community or the D.E.C. will provide an opportunity for Georgia residents to change that trajectory…"
The opener is one that Kendrick is pitching in a video for the Dollar Empowered Community, LLC, a new company that she and four other black women have formed to invest in real estate.
The cast of five co-founders in the video are familiar faces in the DeKalb County community: Kendrick, a securities attorney who also serves as the State Representative for Georgia's House District 93; real estate brokers Amy McCoy, Edwina Clanton and Stacey Thibodeaux; and Teresa Hardy, DeKalb County NAACP president.
The group is hosting its "Founders Virtual Presentation" today, May 13, 6 p.m., to introduce the Dollar Empowered Community, LLC (the D.E.C.). Kendrick said up to two hours has been allocated for the virtual program, which will include a power point presentation and a Q &A.
"We've had nearly 200 people sign up for the virtual program to learn more about commercial real estate investment opportunities with the D.E.C.," said Kendrick, who is the company's CEO. 
Kendrick, who said she has over a decade of experience as a securities attorney and is a registered investment advisor representative, said the D.E.C. is seeking people who are interested in building wealth as a group.
Only Georgia residents, Kendrick said, are permitted to invest with the D.E.C. and includes people of all races both women and men. The minimum investment is $2,500, she said.
"When we think about real estate, we always think we have to be the sole investor on a property.  The reason we decided to take the approach we're taking is to show that we can build wealth as a group. Even the little guy can contribute for the greater good," Kendrick said.
McCoy said that the D.E.C. is seeking to buy commercial properties such as office buildings and industrial spaces.
"We are being intentional in building wealth and we have met all of the regulatory compliances required to set up the D.E.C. We've already gotten some investors," said McCoy.
Hardy, who is CFO of the D.E.C., said she decided to get involved because she is passionate about building wealth in the black community and she has the chance to utilize the professional skills that she honed in corporate America.
"I believe we should create wealth in our own communities. It's something I've always wanted to do," said Hardy. "I have spent 20-plus years problem solving for various corporations as an executive in management consulting, leading global business transformation projects with multi-millions in revenue. I can now use my professional experience in my own community to purposely improve the wealth gap in DeKalb. This is where purpose, passion and profession meet for the greater good."
Kendrick said having a strong team who understands the vision of the D.E.C. is a blessing. She said she has spent years working to close the gap and build wealth by helping small businesses through her private firm.  She said the D.E.C. is an evolution of that work.
Kendrick said the D.E.C. has set a July 1 deadline to raise $837,000, which will be used toward the purchase of its first project.
"I'm so glad that four women bravely decided to join me on this journey. I think it is going to be transformational," said Kendrick.