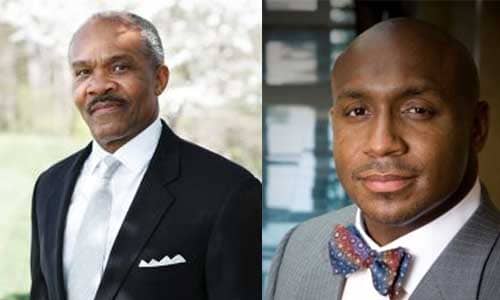 Pictured (L-R): Attorneys Harold Spence and Mawuli Mel Davis
On June 12, 2019 while running from police after being suspected of smoking marijuana, Jaylin Hughes was tased while climbing the top of a fence by a former Lieutenant of the City of McDonough Police Department, Douglas Miller. Following this incident, Hughes spent several weeks at The Shepherd Center, where he was diagnosed with quadriplegia.
On Tuesday, June 16, at 2 p.m., the family of Hughes, 20, will hold a virtual press conference to discuss the released video footage which captures the incident immediately after his tasing and the filing of a lawsuit against Miller and the City of McDonough for the use of excessive force.
"This case represents yet another outrageous abuse of authority by the police that ends with tragic consequences.  While pursuing a teenager who was smoking marijuana, Lt. Douglas Miller tased Jaylin Hughes while Jaylin was climbing the top of a fence, causing 19-year-old Jaylin Hughes to lose muscular control, fall from the top of the fence, break his neck, and be rendered a quadriplegic.  This lawsuit seeks to hold Lt. Miller and the City of McDonough accountable for the lifetime of needless harm they will cause Jaylin Hughes to suffer," said Attorney Harold Spence.
"The video of Jaylin is a harsh reminder that one year ago his life was changed forever because of the officer's reckless disregard for his safety.  It is heartbreaking but the world should know what happens to those who survive these brutal encounters with police," said Attorney Mawuli Mel Davis, managing partner of the Davis Bozeman Law firm.