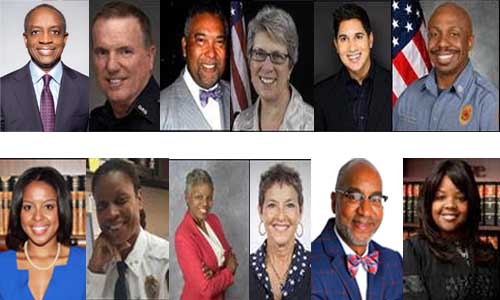 DeKalb County CEO Michael L. Thurmond will show off his fancy footwork in the upcoming "Dancing with the DeKalb Stars," a fundraiser and resource expo that DeKalb County Solicitor-General Donna Coleman-Stribling is hosting.
Thurmond is among several notable DeKalb officials who will participate in the event. Coleman-Stribling announced the participants in the dance competition, which features 11 teams comprised of a dance professional and officials from the county's legal, public safety, business and civic community. Performers include: Thurmond, who will be on one of the teams and will also perform a special number in honor of the two benefit non-profits – The Women's Resource Center to End Domestic Violence and The International Women's House.
Students from DeKalb County's School of the Arts will pay tribute to the victims and survivors of domestic violence through a special performance.
Hosts of the competition are the dynamic mother-daughter duo, Monica and Veronica Maldonando. The pair run a family business, Interprint Communications, in DeKalb.
Judges of the dance competition are Emmy nominated producer, director and choreographer Stepp Stewart; founder of the Self-Care Agency, Anana Harris-Parris; and President and CEO of the DeKalb County Chamber of Commerce Katerina "Kat" Taylor. Judges will decide the ultimate dance competition champion.
Dancing with the DeKalb Stars takes place on Saturday, Oct. 14, at the Porter Sanford III Performing Arts and Community Center in Decatur. The Resource Expo will begin at 5 p.m. and the dance competition will begin at 6 p.m. Mable's Barbeque Smoked Meat is donating all the food provided at the event.
Tickets are available online at www.dancingwithdekalbstars.eventbrite.com for $20. Those interested in making a larger contribution can become a sponsor. Sponsorship packages start at $500.
"These two organizations work daily to assist those lost in the cycle of abuse and our office wants to assist these non-profits in their fundraising efforts," said Coleman-Stribling. "With the help of our, 'DeKalb Stars,' we hope to accomplish this goal and bring awareness to an issue that effects our community. We appreciate our 'DeKalb Stars,' for donating their time and helping us reach our goal. We hope to see all of DeKalb at the event in October."
For more information on the Office of the DeKalb County Solicitor-General, visit www.DeKalbSolicitorGeneral.org.