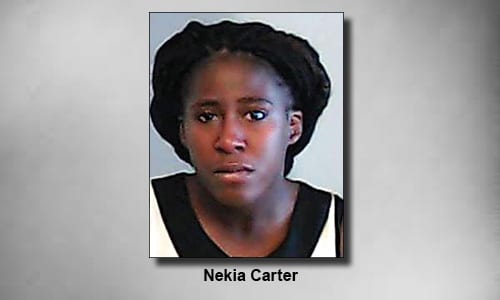 DeKalb County District Attorney Sherry Boston announced  the conviction by jury trial in an assault case involving a 25-year-old woman who threw hot grease on a 21-year-old woman. 
Jurors returned guilty verdicts on July 11 against Nekia Carter on charges of Aggravated Assault and Aggravated Battery in an attack against Sharell Henderson.
 The incident happened on Oct. 2, 2016 in the parking lot of the Oak Forest Apartments on Hatton Drive in Scottdale. Earlier that day, Carter and Henderson were involved in a physical altercation in the parking lot following a spat about one of the victim's relatives. The two women left the area and went back to their respective apartments after onlookers intervened in the fight.  Carter emerged from her apartment a short time later with a pot of hot grease in one hand, and a butcher knife and bottle of bleach in the other. She sought out the victim, who was entangled in a parking lot brawl involving another group of people. Carter approached the victim and threw hot grease in her face and then briefly chased her with the bottle of bleach and knife as the victim sought refuge in her apartment. Emergency crews rushed Ms. Henderson to the hospital with second and third degree burns to her face and scalp. She also suffered first and second degree burns on her chest, arms, and stomach. She remained hospitalized for 11 days.
 Carter claimed self-defense when initially questioned by police. However, warrants for her arrest were taken after video surfaced of her exiting her apartment with the pot of grease and searching for the victim.
 Carter was sentenced to 20 years to serve 10 with the balance on probation by DeKalb County Superior Court Judge Asha Jackson.
 The case was prosecuted by Assistant District Attorney Alana Driscoll with assistance from Senior Assistant District Attorney Shannon Hodder and DA Investigator Erin Gibbs. Detective J.D. Paden of the DeKalb Police Department led the initial investigation.