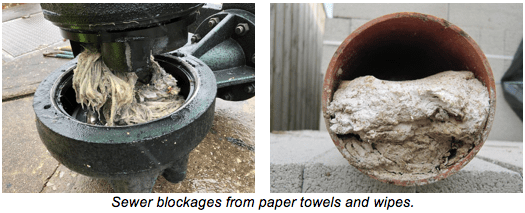 DeKalb County Department of Watershed Management is reminding citizens to keep items like paper towels, sanitizing wipes or "flushable" wipes out of the sewer system.
As a result of the COVID-19 pandemic, stores have been emptied of toilet paper, leading citizens to use paper towels or wipes as alternatives. Many have also increased sanitizing of surface areas with disinfectant wipes.
"We want to eliminate any other potential public health threats, especially during this COVID-19 crisis," said DeKalb CEO Michael Thurmond. "Along with keeping fats, oils and grease out of the drains, keeping paper towels and wipes out of our sewer pipes is a step the public can take to prevent the spread of disease."
Paper towels and wipes, even those marketed as flushable, should only be disposed of in the trash. When flushed, they do not biodegrade appropriately in the sewer system, leading to costly clogs and sewer spills.