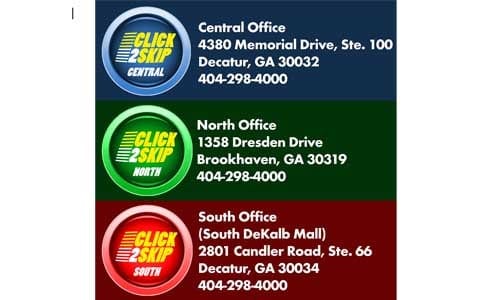 DeKalb County Tax Commissioner Irvin J. Johnson has added a new effort designed to save customers time. This process is designed to enhance the customer experience by allowing them to select a designated appointment time and avoid waiting in line. The "Click2Skip" process allows motor vehicle customers to use their phone or computer to schedule an appointment online and save time.
"Providing a better customer service experience remains a top priority as we leverage technology to enhance our business model," Johnson said.
The pilot program, launched at the Memorial Drive location in Decatur, has since expanded to the office's two satellite locations. 
"We want DeKalb citizens to know that improving our customer experience is an on-going process and has only been heightened due to this new pandemic environment," said Johnson. "So far, this effort has been well-received by many customers. On average, people spend about two minutes making their appointments on our website, which ends up saving them wait time."
Customers interested in scheduling an appointment for a new tag or title should visit DeKalbTax.org and click the Click2Skip button. Taxpayers without smart phones or computers may call the office to have an appointment scheduled for them.
2 Simple Steps
In just 2 easy steps, customers can reduce wait times during their next visit.
1)  Visit DeKalbTax.org and complete the quick online application. Receive an appointment confirmation by email with text reminders.

2)  Arrive at the selected location at your designated appointment time. Look for the "Click2Skip" signage and present your confirmation email or text.
Know Before You Go:
·  A valid Georgia driver's license or ID is required for all transactions.

·  Forms of payment accepted: cash, personal check, money orders, credit/debit card (fees apply)

·  When you arrive, follow signs for "Click2Skip" lines at your designated appointment time.

·  Show staff at the front door your confirmation email/text by phone or printout.

·  Masks and temperature checks are required for entry.

·  On-time arrival is required for your appointment.
Central Office:
4380 Memorial Drive, Ste. 100 Decatur GA 30032 404-298-4000
South Office (South DeKalb Mall):
2801 Candler Road, Ste. 66 Decatur, GA 30034 404-298-4000
North Office:
1358 Dresden Drive Brookhaven, GA 30319 404-298-4000