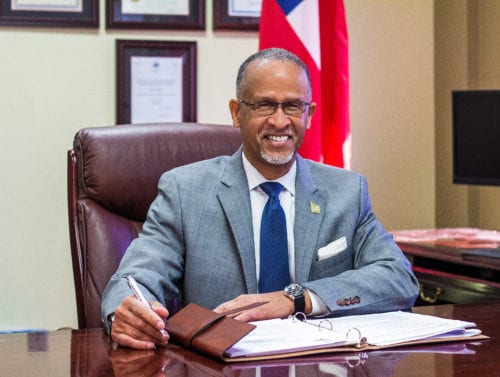 DeKalb County Tax Commissioner Irvin J. Johnson will reopen the county's three tax offices on June 8 with new procedures and protocols in place amid the global coronavirus pandemic.
For the safety of customers and employees, all individuals entering tax office locations are required to have on a face covering, adhere to social distancing and utilize the newly implemented text alert system.
"On June 8, we will reopen our doors to customers with a number of new measures in place to promote a safe work environment and more efficient customer service," said Johnson. "We anticipate a flurry of activity and a number of customers eager to process various tax-related needs. During the first week, we are encouraging customers to visit our office locations on the assigned date based off the first letter of their last names. This will help us manage wait times and adhere to social distancing requirements."
Motor Vehicle Customer Schedule June 8 – June 12
During the first week of reopening, customers are strongly encouraged to visit tax office locations on the following days based off the first letter of their last names. To help reduce customer wait times and maintain social distancing requirements, a motor vehicle customer schedule will be implemented during the first week of reopening.
Monday, June 8, (A – E)
Tuesday June 9, (F – J)
Wednesday June 10, (K – 0)
Thursday June 11, (P – T)
Friday June 12, (U – Z)
Safety Requirements
The DeKalb County Tax Commissioner's Office is also implementing several new safety procedures to reduce the spread of COVID-19 and minimize office overcrowding. Customers will be required to follow the outlined safety protocols:
Wear masks at all times
Practice social distancing
Cough and sneeze in the crease of the elbow
Prior to reopening its doors to customers and employees, the DeKalb County Tax Commissioner's Office implemented the following measures:
Removed seating in the general waiting area
Installed plexiglass dividers at service desks
Increased the number of customer hand sanitizing stations
Coordinated with partnering Kroger stores to ensure increased cleaning of kiosks
Increased cleaning of high-touch surfaces and common areas in all office locations
Implemented a new customer text alert system
New Customer Text Alert System
Upon arriving to office locations, customers will provide an attendant with their cellphone number. Customers will receive a confirmation text, and will be asked to remain in their vehicles until a text message alert is received notifying them that they are ready to be serviced. All customers must arrive at the front check-in within 5 minutes of receiving the text alert.
"Our newly implemented text message system will allow customers to wait in the convenience and safety of their motorized vehicles. When they receive their text notification, customers will then walk directly into the building to a waiting staff member who is prepared to provide them with the needed services," said Johnson. "The safety of our employees and customers remains my top priority, and these new procedures and protocols will help us minimize the spread of COVID-19."
Online and Kroger Kiosk Services
To access online services, visit DeKalbTax.org. Motor vehicle customers can also visit the Kroger kiosks for renewal decal stickers.
DeKalb Tag Registration Kiosk Locations
Chapel Hills Commons (4919 Flat Shoals Parkway, Decatur)
Cofer Crossing (4357 Lawrenceville Highway, Tucker)
Covington Highway (6678 Covington Highway, Lithonia)
Georgetown (4498 Chamblee-Dunwoody Road, Dunwoody)
North Decatur (2875 North Decatur Road, Decatur)