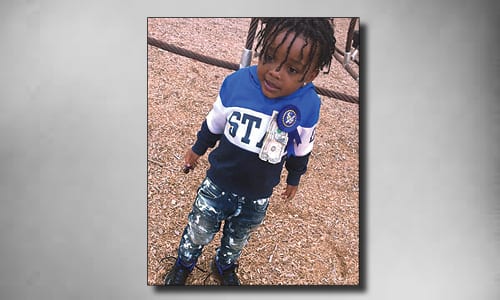 By Valerie J. Morgan 
DeKalb County police are seeking witnesses who may be able to help investigators locate the gunman who shot and killed a 3-year-old boy on Easter night as he rode in the backseat of his mother's SUV.
The child, T'Rhigi Diggs, was shot in the chest as his mother, Rashonda Craig, was driving around 11:30 p.m. on Bouldercrest Road near Eastland Road in East Atlanta. Police initially thought the single bullet came from a gray or silver Dodge that Craig told police pulled up beside her black SUV. However, Police Chief James Conroy told On Common Ground News on April 5 that police now believe the shot actually came from a nearby gas station.
"Based on the trajectory, the shot could not have been fired from the Dodge. We think it came from the gas station," Conroy said.
Police are seeking the occupants of the Dodge, as well as three potential witnesses who were at the Texaco convenience store. Conroy said surveillance video from the store shows witnesses who may be able to provide information to police.
"It's a tragedy and we definitely want the public's help to solve this quickly," said Conroy.
The young child who was killed had celebrated his third birthday two days before the shooting, relatives said.          
Family and friends held a candlelight vigil and balloon release the day after the shooting. Some brought stuffed animals. The child's mother was distraught as she openly grieved.
Craig told police she had seen people with paintball guns in the car that pulled up beside her. She said she didn't realize that a real gun had been fired until she drove farther and discovered that her son, who was sleeping in the back of her SUV, had been shot. The child died at the hospital.
Conroy said police are investigating whether the gunman might have been provoked by a paintball incident and the child was caught in the crossfire. Conroy said paintball has become a popular recreational activity and may be causing problems.
"We have heard some rappers were promoting that young people use paintball guns and instead put down real guns. The problem is they hurt and they splatter paint," said Conroy.  
Craig is getting help with her son's funeral, which will be held on April 7, from Rapper 21 Savage, a family friend. The rapper said he is covering the costs because he did not want the family to have that financial burden on top of dealing with the death of the little boy.
Anyone with information about the case is asked to call Crime Stoppers at 404-577-8477.