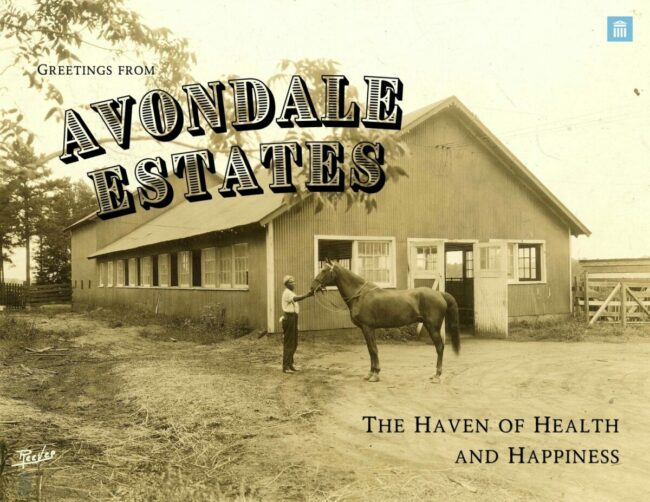 Photo caption: Unidentified man with horse, circa 1920s. Photo provided Forkner Collection, DeKalb History Center Archives.
DECATUR, GA – The DeKalb History Center will present a new exhibit, "Avondale Estates: The Haven of Health and Happiness." The opening reception for DeKalb History Center members only will be held on Aug. 5. The exhibit opens to the public on Friday, Aug. 6.
This exhibit dives into the history of Avondale Estates and brings to light details that were forgotten or simply left out of the city's narrative, according to the news release.
Avondale Estates, Georgia, was established in 1924. Originally called Ingleside, Avondale developed quickly from mostly farmland into a "home lovers paradise" that was opened to new residents by 1925. The developer, George F. Willis, planned for a quaint "Old English" city with beautiful homes flanking a picturesque town center. It was also developed as an intentional "Whites Only" exclusive enclave, mirroring thousands of towns across the U.S. The majority of its historic buildings are preserved.
In The Haven of Health and Happiness, the history center explores the history of Avondale Estates from its origins, including the amenities, architecture, and the people who made the city what it is today.
Members Only Reception: Thursday, Aug. 5, 6– 8 p.m.
Limited space – Must RSVP to attend 
Official Exhibit Opening:  Friday, Aug. 6
Museum Hours: Monday – Friday, 10 a.m. – 4 p.m.
Historic DeKalb Courthouse,101 E. Court Square, Decatur