By Mark Brock
DCSD Athletics Specialist
DEKALB COUNTY, GA—DeKalb County School District(DCSD) Coach Terrence Jett will be honored at the 2023 Historically Black Colleges and Universities (HBCU's) "Paying it Forward" Scholarship Gala in Houston, Texas on Saturday, Oct.  21. Jett is the longtime Chamblee Middle School track and football coach.
The event is sponsored by the Grambling Friends of Football, Incorporated (GFF) and has contributed over $1,000,000 to HBCU initiatives and scholarships.
Along with the gala helping raise money for GFF contributions, the event honors graduates of HBCU's who have "paid it forward" with significant contributions to their alma maters.
Pictured: Terrence Jett, Chamblee Middle School track and football Coach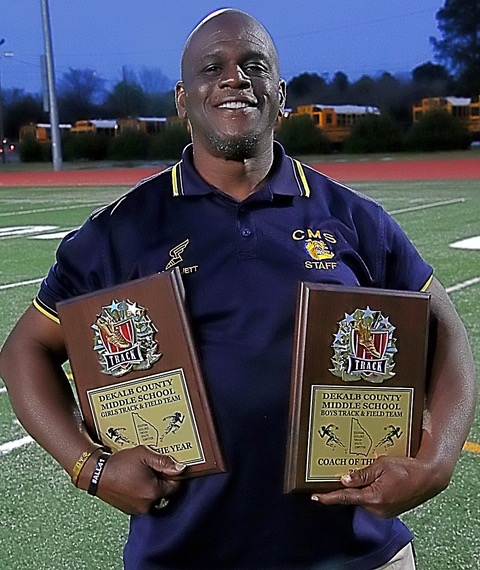 Jett, a 1994 graduate of Florida Memorial College, is one of 10 honorees this year and will attend the event.
"I am deeply humbled, and also very proud to be recognized as an honoree of this most distinguished award," said Jett. "Molding young people to do their very best in life and uplifting the community is something that I have always done and will continue to do."
Jett has coached the Chamblee Middle School girls' track team to seven county titles, the first in 2009, and his team has won four consecutive. The 2022 season Jett has both the boys' and girls' teams sweep the DeKalb County Middle School Track titles earning him his fourth consecutive Coach of the Year honor.
The veteran coach has also helped lead the Bulldog football team to consecutive playoff appearances (2022-23). Jett also helps on the Chamblee High School girls' track team as sprint coach.
Over the years, Jett helped the Florida Memorial Alumni Association fundraising campaigns to provide scholarships for students.
Grambling Friends of Football, Inc. awards scholarships each year to a group of HBCU students with high ambition, big dreams and who have demonstrated a commitment to academic excellence, moral integrity and work ethic.
Story and photo by Mark Brock, Athletics Specialist DeKalb County School District (DCSD)