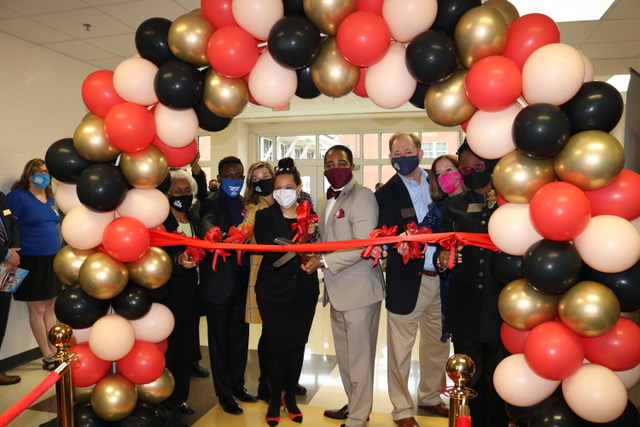 DORAVILLE, GA– DeKalb County School District (DCSD) officials, staff, students, and families celebrated the new Doraville United Elementary School with a ribbon-cutting ceremony on Feb. 17.
The ceremony featured speeches and music by students. Doraville United Elementary is one of DCSD's newest facilities. The 118,911-square-foot building was built to relieve the overcrowded Carey Reynolds, Hightower, and Dresden Elementary schools. The design of Doraville United Elementary is a state-of-the-art facility focusing on creating the best environment for students to learn and teachers to teach.
"This new facility, this staff, community, and most importantly, Doraville United scholars, are the essence of who we are and what we do to ensure student success, leading to higher education, work, and life-long learning," said DCSD Superintendent Cheryl Watson-Harris. "These contemporary facilities will not only improve the school's physical environment but also inspire learning culture and expand possibilities from Digital Dreamers to STEM innovation. In fact, the clinic demonstrates hard work, courage, collaboration, innovation, and perseverance of our staff, scholars, and families."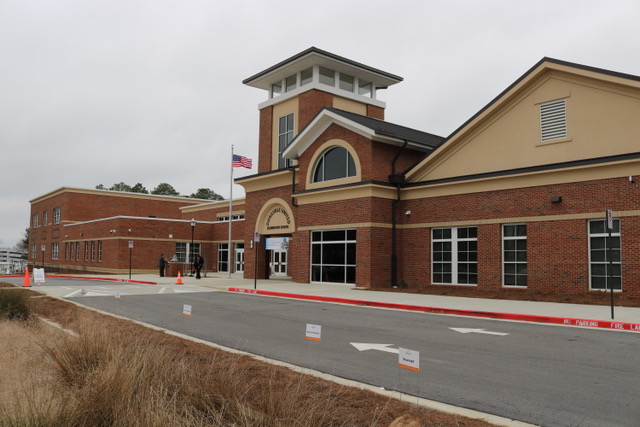 The school building features a full health clinic, which will serve students and the community. The school partnered with MedCura Health and the Department of Pediatrics at Emory University to operate the clinic. Doraville United Elementary will also contain the newest educational technology and other resources.
"The ultimate aim of school-based health centers (SBHCs) is to enhance academic achievement through improving the physical and emotional health of students," said Dr. Veda Johnson, Professor of Pediatrics at Emory University. "Students learn best when they are healthy, present, and have socio-emotional connections to the school. SBHCs promote those principles."
"This indeed is an exciting day for your scholars, staff and stakeholders in the Doraville community," said DeKalb County Board of Education Chair Vickie B. Turner. "On behalf of our Board of Education, I am proud to share in such a momentous occasion. It is our hope that the students and staff enjoy all of the benefits that this new school building will afford them. Our commitment remains strong as we endeavor to provide a quality environment, along with an excellent education for those who attend Doraville United Elementary."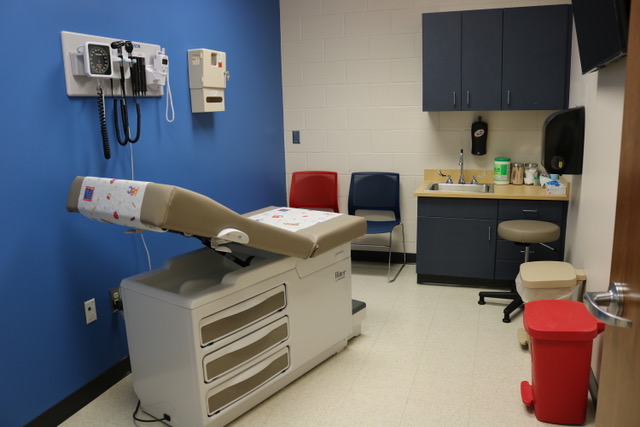 Doraville United Elementary was formally known as Doraville Elementary, which was founded in 1866. Doraville Elementary closed in 1964. Historically, African American students living within the Doraville community attended Lynwood Park Elementary and High School. After the U.S. Supreme Court's 1954 landmark decision in Brown Vs. Board of Education, Lynwood Park was closed, and students went to their zoned schools during integration, including Doraville Elementary and other North DeKalb County Public Schools.
Since that time, Doraville Elementary has served as an essential cornerstone within the Doraville community. The new Doraville United Elementary school will continue that tradition. To symbolize the connection to the past, school officials installed the original Doraville Elementary school bell on the new campus during the ribbon-cutting ceremony.
"Doraville United Elementary School is the cornerstone of learning within the community," said Principal Jesse Berger. "We are a student-centered institution focused on academic success and culturally responsive attributes daily, along with care and support for students, teachers, families, and all stakeholders."