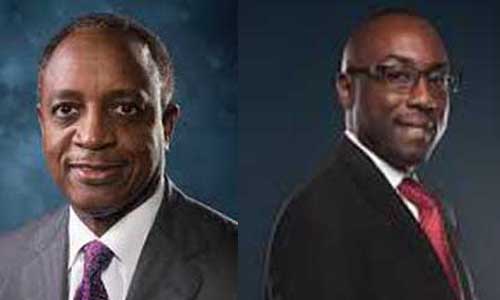 DeKalb County CEO Michael Thurmond(left) thanked Commissioner Larry Johnson for leading effort for 'best-in-class voter experience.'
DeKalb County has been selected to receive a $4.8 million grant from the Center for Tech and Civic Life (CTCL). The CTCL grant will allow DeKalb County Board of Registration and Elections to hire more personnel, purchase additional voting and mail ballot sorting equipment, open and operate additional early voting and Election Day locations, ensure sanitization of voting equipment and purchase sufficient personal protective equipment (PPE) for both poll workers and voters.
"These funds will be used to address longstanding operational issues and increase voter safety and confidence in our voting process," said DeKalb CEO Michael Thurmond.
The county will conduct a comprehensive review of the elections system to ensure that citizens can participate in a fair, free, and convenient elections process.
Thurmond congratulated DeKalb County Commissioner Larry Johnson for leading the effort that will result in a best-in-class voter experience.
"I would like to thank the Board of Commissioners for their support in helping to secure this grant," stated Commissioner Johnson. "This is a gamechanger for DeKalb. We have the opportunity to be innovative, add more poll workers, and add more voting locations throughout the county. We can be a model of service for the state and the country."
About the Center for Tech and Civic Life
The CTCL is a nonpartisan nonprofit that connects elections officials with technology to better communicate with voters and increase civic engagement.