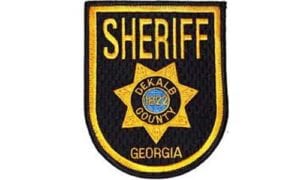 DECATUR, GA– The DeKalb County Sheriff's Office has installed full-body scanners at entrances to its facilities on Memorial Drive in Decatur to better detect the presence of weapons and contraband on visitors, employees, and arrestees at the DeKalb County Jail.
Last year, the agency purchased two units of the Tek84 Intercept Body Scanner for High- Security Screening, a state-of-the-art security scanning system of the type that is being used by more than 500 correctional facilities nationwide.
The units are located inside the jail intake area and the public entrance to the jail lobby. They represent the agency's commitment to improve the efficiency of security operations at the administrative offices and at the DeKalb County Jail through the use of technological innovations, Sheriff Melody Maddox said.
"Using full body scanners greatly reduces physical contact by our officers with persons entering the facility," said Sheriff Maddox. "The units offer head-to-toe vertical scanning that takes only seconds, includes body cavities, and uses low-level x-rays. Security breaches are rare, but they are potentially life-threatening, as the accessibility of weapons or contraband among inmates has serious consequences."