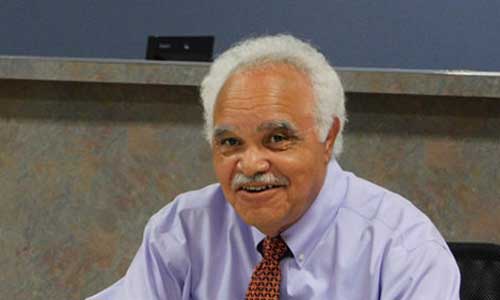 Sam Tillman, chairman of the DeKalb County Board of Voter Registrations
A DeKalb County elections employee has been fired after an internal review found that the manager's failure to follow protocols in the state mandated ballot recount verification, which resulted in an inaccurate tally.
Sam Tillman, chairman of the DeKalb County Board of Voter Registration and Elections, read the following statement today (Nov. 20) at a special called board meeting, which was held virtually:
"It has come to our attention that a DeKalb VRE manager, who is now a former employee, failed to follow our established protocols and blatantly disregarded the required processes we utilize to account for and record all legal and verified ballots.
According to our internal review, this is the same person that made the human error in failing to follow protocols, which caused our previous recertification.  Since the employee's departure, management's corrective actions and reviews ultimately yielded 59 additional ballots that were omitted from our count.
All of our internal reviews indicate that these two omissions were primarily caused by a single employee's negligent failure to follow protocol and are in no way reflective of our collective efforts to maintain the highest standards for election safety, security and transparency.
We immediately notified the Georgia Secretary of State upon discovery of this error and look forward to officially certifying the November 3rd General Election results.
The voters of DeKalb did their part in casting their ballots this election cycle and we refuse to allow the reckless acts of one irresponsible former employee to discredit this entire election and the votes of more than 373,000 DeKalb County residents.
To protect against this type of human error, we continue to closely monitor all activity in this election cycle, stressing strict compliance with protocols to ensure the integrity of this process and implementing all appropriate corrective action as necessary, including personnel matters."