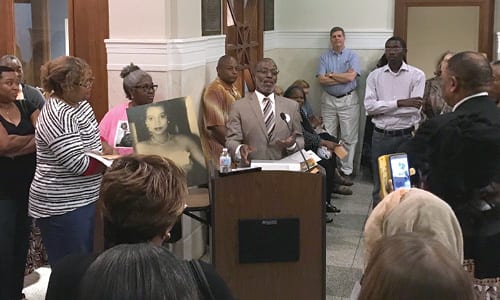 By Mackenzie N. Morgan 
The DeKalb History Center, in conjunction with the Flat Rock Archives, hosted a reception to announce the forthcoming installation of an exhibit dedicated to telling the story of the historic Flat Rock community – one of the oldest African-American communities in DeKalb County.
The Aug. 24 event held at the Historic DeKalb Courthouse in Decatur offered guests the opportunity to mix and mingle over wine and hors d'oeuvres in celebration of the newest exhibit entitled "Deep Roots in DeKalb: The Flat Rock Story of Resilience." 
The program featured a video presentation on the history of the Flat Rock community and a sneak peek of the coming exhibit slated to launch in February, and a roster of guest speakers including an oral history presentation with 91-year-old Patsy Moon, a former Flat Rock resident and mother of NFL and Canadian Hall-of-Famer Warren Moon. 
Moon shared her experiences of living in the South during a time when blacks were not permitted to drive through Decatur, let alone use its faculties such as the Historic DeKalb Courthouse where the exhibit will be housed. Moon, who visits Atlanta annually, said she ultimately left the Flat Rock community for California in pursuit of raising her children in a place unmarred by the racism of the deep south but that she is proud of the progress Georgia has made.
The standing-room-only event was attended by elected officials including State Court Judge Ronald Ramsey, DeKalb County Commissioner Jeff Radar, Mayor of Decatur Patti Garrett, Lithonia Mayor Deborah Jackson, State Sen. Tonya Anderson along with members from the Arabia Mountain Heritage Area Alliance, the Flat Rock Archives Board of Directors and a host of public supporters. 
Co-founded in 2006 by Johnny Waits, the late Rev. T.A. Bryant, Jr., and Vera Whitaker, the Flat Rock Archives is the only African American archival facility in DeKalb County and is located in the Arabia Mountain National Heritage Area. 
Waits said he hopes the downtown Decatur exhibit will help bolster museum visitation as well as sponsorships and memberships. 
"We're very proud to be partners with organizations such as The DeKalb History Center and Arabia Mountain Heritage Area Alliance," Waits said. 
 "We work very hard at preserving the past for current and future generations to enjoy and we were extremely pleased with the turnout. We are excited about the progress being made in changing what stories get to be told in DeKalb." 
The new exhibit, which chronicles the oldest documented black family and community in DeKalb, will feature a variety of original archival material including genealogical records, newspaper articles, photographs, maps, church books, school records, rare books, and other artifacts relative to the Flat Rock story and black life in the rural South. The only surviving diploma from the Lithonia High School for Negroes, which belonged to Chris Tucker's grandfather, Rev. T.A. Bryant, Jr., will be on display along with a changing display of original artifacts alongside the two-year exhibit.  
"Flat rock is the only African American archive in DeKalb county and the DeKalb History Center is working to reach all of the DeKalb communities. Partnering with another active archive allows us to reach all stakeholders of DeKalb's history," said Fred Mobley who serves as Archivist and Collections manager at DeKalb History Center. 
"We're both nonprofits gathering history. When we join forces, it helps all of us. Partnerships such as these, enables both nonprofits an opportunity to recruit members, volunteers and donors. 
We all have history and we want to be able to share everybody's history," said Mobley. 
The new exhibit will open in February and replaces the current Civil War exhibit.  Entrance to the exhibit will be free and open to the public at the Historic DeKalb Courthouse, 101 E. Court Square, Decatur. 
For more information on the Flat Rock exhibit or for a list of current exhibits, visit www.dekalbhistory.org. The Flat Rock Archives is located at 3956 Crossvale Road in Lithonia. For information on tours, partnerships and volunteer opportunities visit www.flatrockarchives.com.