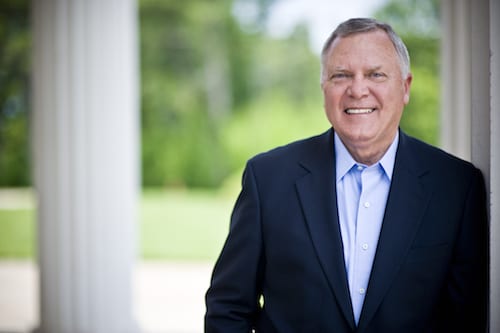 Gov. Nathan Deal today outlined Georgia's efforts to assist in Hurricane Harvey rescue and recovery operations in Texas. He also announced steps taken to help safeguard Georgians' fuel supply during the aftermath of the hurricane.
"On behalf of all Georgians, Sandra and I continue to pray for the victims of Hurricane Harvey as they continue to suffer," said Gov. Deal. "The devastating impact of this storm has yet to be fully realized, and we offer our thoughts and prayers to the families and communities affected by this disaster. As response and recovery efforts continue, the bravery and selflessness demonstrated by first responders and everyday citizens is nothing short of heroic. The kindness and courage of others acts shines light during the darkness faced by so many, and is a beacon of hope for all of us.
"To those impacted by Hurricane Harvey, you are not alone. Georgia and the rest of the nation are with you. We have boots on the ground in Texas and teams working here to help coordinate response efforts and provide support. This multi agency initiative includes the Georgia Emergency Management and Homeland Security Agency (GEMA/HS), the Georgia Department of Defense (GA DoD) and the Georgia Department of Natural Resources (DNR). I stand ready to offer any further assistance or resources that may be needed as recovery operations continue.
"Finally, I've taken steps to mitigate the effects that Hurricane Harvey and its aftermath will have on Georgia's fuel supply. Earlier this week I applied for, and received, a fuel waiver from the Environmental Protection Agency (EPA). This waiver will help ensure our fuel supply remains uninterrupted. Further, I've issued an executive order waiving rules and regulations for truck drivers transporting motor fuel in Georgia, as well as for those carrying hurricane relief supplies. While recovery efforts continue and until normal operations resume, I urge the public to maintain regular consumption levels and travel schedules."
The multi-pronged response includes the following:
Fuel and trucking
         On Aug. 29, the EPA issued an emergency waiver through Sept. 15 for the metro Atlanta area. Read more here: Fuel Waiver Concerning Georgia.
       On Aug. 30, Gov. Deal issued an executive order waiving trucking requirements for the transport of motor fuel and hurricane supplies. Read more here.
        For additional information on EPA fuel waivers, contact Kevin Chambers with the Georgia Environmental Protection Division at Kevin.Chambers@dnr.ga.gov or 404-651-7970.
GEMA/HS
        GEMA/HS is coordinating with state and local partners and has offered Texas and the Federal Emergency Management Agency (FEMA) the support of 75 Georgia personnel to assist in search and rescue efforts. The state is poised to deploy 50 members of the Georgia Search and Rescue task force and 25 members of Georgia Department of Natural Resources swift water teams.
         GEMA/HS is also working with the Georgia Voluntary Organizations Assisting in Disaster (VOAD) and the Red Cross on the coordination of volunteers and donations. Individuals and organizations are asked to donate or volunteer through the National VOAD site at www.nvoad.org. Large organizations with the ability to organize and transport donations to Texas may also contact GEMA/HS and the Georgia VOAD at volunteers@gema.ga.gov.
         For additional information on GEMA/HS relief efforts, please contact Catherine Howden at catherine.howden@gema.ga.gov or 404-606-2928.
GA DoD
         GA DoD's team of domestic operations professionals has been in constant contact with the National Guard Bureau, FEMA, GEMA/HS, other supporting states and the State of Texas to assess the needs in Texas and be prepared to readily provide resources as needed and authorized by Gov. Deal and GEMA/HS.
         At Gov. Deal's authorization, the Savannah-based 165th Airlift Wing of the Georgia Air National Guard yesterday deployed a C-130 H3 cargo aircraft and 15 personnel to aid in the emergency response efforts for the destruction caused by Hurricane Harvey. The crew first flew into Scott Air Force Base in Illinois to pick up disaster recovery pallets before mobilizing to provide relief support to Texas and the Texas National Guard. There have been no new requests for additional personnel or equipment.
         For additional information on GA DoD relief efforts, contact Desiree Bamba at desiree.b.bamba.nfg@mail.mil or 470-303-2329.