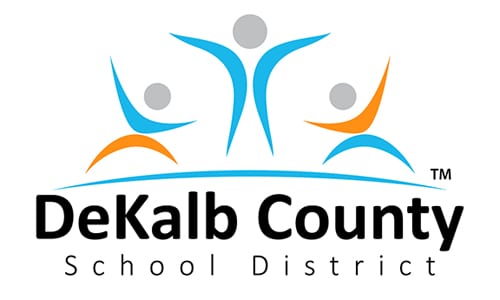 The DeKalb County School District (DCSD) is launching a mobile classroom equipped with resources, supplies and staff  to travel to marginalized communities.
District officials say the Mobile Impact Learning Hub, which was launched today(Sept. 22), is designed to remove barriers of getting to a school campus for students and adults who don't have access to transportation or have linguistic challenges.
The bus will be equipped with a library, computers, internet access, desks, and study nooks that will be open free of charge to students and their families.  The bus will go out in the daytime for students who are participating in a mobile learning hub environment from Elizabeth Andrews High School or the Alternative School.  The mobile classroom also will operate in the evenings and on the weekends for parent workshops and student engagements, DCSD  officials said.
"We believe that this model of meeting our students and families where they are through our mobile classroom will be a game-changer and will have a major impact on student achievement," said Superintendent Cheryl Watson-Harris. "The vision of the mobile classroom is to create flexible, student-designed learning environments that increase access to information, resources, and training in the comfort of our neighborhoods."
"I, along with my colleagues on the Board of Education, are very excited about the opportunities being afforded to our students through the Mobile Impact Learning Hub. This initiative comes at just the right moment, as we are seeking strategies that will allow us to reach our students in unique ways," said DeKalb County Board of Education Chair Vickie B. Turner. "I visualize our families taking advantage of this innovative approach to non-traditional collaboration. I'm very proud and supportive of our District's Leadership for taking the cause of Education to the next level, and thereby, taking our students to the next level."
The Mobile Hub is supported by a $750,000 grant from the Center on Reinventing Public Education, a nonpartisan research center, and The New Teacher Project (TNTP), a national nonprofit that works with hundreds of school systems across the country. TNTP is also providing technical assistance to launch the Mobile Hub.
"Every student deserves access to high-quality educational opportunities—even if they can't engage with school in the traditional way," said Jeffrey Tsang, a Partner at TNTP. "We're proud to partner with DCSD on this innovative approach to reaching students in their communities. It will provide critical support this year and could become a national model for more flexible learning environments that endures long after the pandemic is over."
The District's Office of Student Advancement will utilize the Mobile Hub as a strategy to minimize the obstacles students face in pursuing post-secondary options by hosting events directly in the community. The mobile classroom will facilitate building trust with students and families through in-person academic and social-emotional support services at convenient locations.  Using the Mobile Hub will allow Student Advancement to support students with completing the FAFSA, dual enrollment eligibility and process, and college, career, and life readiness opportunities.
As part of the support of Elizabeth Andrews High School and DeKalb Alternative School, DCSD mobile, in-person, and virtual learning hubs will continue to serve as an ecosystem of community-based supports for students who need or desire flexible learning environments and for students transitioning from DeKalb Alternative School back to their home schools.
For more information, visit www.dekalbschoolsga.org.