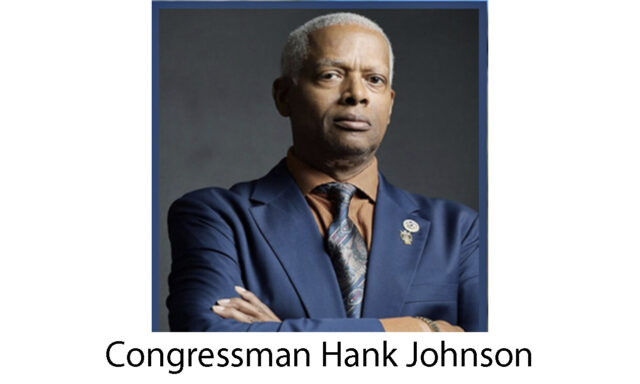 WASHINGTON, D.C. – Congressman Hank Johnson (GA-04) today re-introduced the Minorities in Aviation Education Act, H.R. 6841, which would create a grant program aimed at improving the preparation and representation of minorities in aviation-related fields.
The new grant program, administered by the Federal Aviation Administration (FAA), will be named for Bessie Coleman, an American aviator and the first black woman to earn a pilot's license.
It comes on the heels of the Congressman's Black History Month program entitled: "Blacks in Aviation: Past and Present" where he honored the history of black pioneers for their courage and perseverance that paved the way for later generations to pursue careers in aviation. It also explored how young aviators are making it in the world of aviation today.
"By increasing educational opportunities in fields such as piloting, engineering, scientists, aviation maintenance and unmanned aircraft systems, we will tap into the unparalleled potential of minority students and encourage them to enter good-paying careers while bolstering our aviation workforce," Johnson said.
Georgia is home to thousands of Black aviation professionals and leaders, from flight attendants to pilots and scientists. Georgia's Hartsfield-Jackson Atlanta International Airport is one of the busiest airports in the world and employs over 55,000 people.
Barrington Irving, the youngest person to pilot a plane around the world solo, a feat he accomplished in 2007, said Congressman Johnson's bill would help minority youth find their way in the aviation industry.
"Launching my career from inner-city Miami to become the first black man and youngest person to fly solo around the world, I believe this legislation is an absolute necessity," said Irving, who founded Experience Aviation, a non-profit organization dedicated to empowering minority youth to pursue careers in aviation. "A number of airports are in the backyards of many communities but their exposure and access is limited. This industry is in dire need of diverse talent to continue its pace of innovation." [this quote from 2018 – Xeron can we get a fresh quote?]
Minorities in Aviation Education Act takes a critical step forward towards diversifying the aviation industry by providing grant funds to states, local governments, institutions of higher education and non-profit organizations to increase the exposure and access to aviation-related education and jobs.
Cosponsors include: Anthony G. Brown (MD-04); Andre Carson (IN-07); Adriano Espaillat (NY-13); Al Green (TX-09); A. Donald McEachin (VA-04); Bonnie Watson Coleman (NJ-12); Brenda Lawrence (MI-14); Barbara Lee (CA-13); Bobby L. Rush (IL-01); Bennie G. Thompson (MS-02); Carolyn Bourdeaux (GA-07); Carolyn B. Maloney (NY-12); Donald M. Payne Jr (NJ-10); Deborah K. Ross (NC-02); David Scott (GA-13); Dina Titus (NV-03); Eddie Bernice Johnson (TX-30); Eleanor Holmes Norton (DC); Gwen Moore (WI-04); Grace Meng (NY-06); Haley Stevens (MI-11); Jahana Hayes (CT-05); Juan Vargas (CA-51); Karen Bass (CA-37); Kaiali Kahele (HI-02); Lucy McBath (GA-06); Mary Gay Scanlon (PA-05); Nikema Williams (GA-05); Rick Larsen (WA-02); Sanford D. Bishop Jr (GA-02); Sean Casten (IL-06); Steve Cohen (TN-09); Sheila Jackson Lee (TX-18); Vicente Gonzalez (TX- 15); William R. Keating (MA-09).
Endorsed by: Organization of Black Aerospace Professionals, National Black Coalition of Federal Aviation Employees, Latino Pilots Association.
Read the bill HERE.
The legislation now goes to the T&I Committee for consideration.