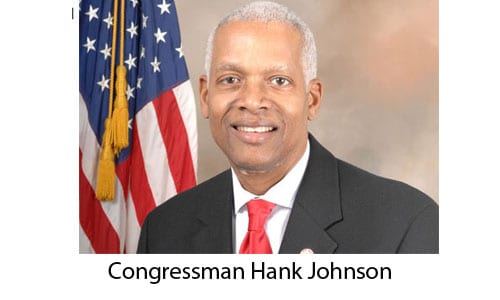 WASHINGTON, D.C. — Today, Congressman Hank Johnson, a senior member of the House Committee on Transportation and Infrastructure, voted in favor of the INVEST in America Act (Investing in a New Vision for the Environment and Surface Transportation in America) that passed the House of Representatives, 221-201.
| WATCH REP. JOHNSON'S FLOOR SPEECH IN SUPPORT OF THE INVEST ACT |
The bill includes five  transportation projects that  will collectively bring nearly $20 million in transit investments to the Fourth District, which Johnson represents.
The INVEST Act is a $715 billion in surface transportation re-authorization and water infrastructure bill that creates jobs to rebuild and re-imagine America's surface transportation infrastructure, with investments in roads, bridges, transit, rail, and drinking water and wastewater infrastructure. The package helps meet the President's vision— as laid out in the American Jobs Plan — by investing in American workers and communities of all sizes, while tackling the climate crisis head-on.
The INVEST in America Act will invest:
$343 billion in Roads, Bridges, and Safety
$117 billion in Drinking Water Infrastructure & Assistance
$109 billion in Transit
$95 billion for Passenger and Freight Rail
$51.25 billion in Wastewater Infrastructure
"I'm proudly throwing my support behind the INVEST Act, landmark legislation providing critical funding to repair our crumbling infrastructure, making long-overdue investments in public transit and improving overall safety," said Johnson. "Together, the reforms respond to the climate crisis by reducing emissions from transportation, which represents the largest share of greenhouse gas emissions in our economy. This bill includes several provisions I authored, including a boost to disadvantaged businesses, a requirement that trucks be equipped with life-saving automatic braking systems, and funding for public transit. The bill would also fund five projects in my district to expand public transit service and improve rider safety, including the Stonecrest Transit Hub. Moving forward, I am hopeful that a final law will include a dedicated public transit operating program such as the one I proposed to grow and improve service around the nation."