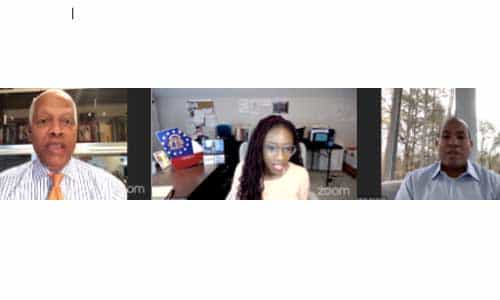 L-R: Congressman Hank Johnson, State Rep. Dar'shun Kendrick, and Atlanta School Board Chairman Jason Esteves 
Atlanta — Today(Dec. 7), the Democratic Party of Georgia hosted a virtual press conference with Congressman Hank Johnson, Atlanta School Board Chairman Jason Esteves, and State Rep. Dar'shun Kendrick on the last day of voter registration in Georgia.
Speakers stressed the importance of ensuring every eligible Georgian is registered to vote ahead of the crucial Jan. 5 runoff election, and encouraged them to go to IWillVote.com to check their registration status and make sure they are registered to vote by midnight tonight, December 7.
Any Georgia voter with a question about registering to vote or casting their ballot should call the Voter Protection Hotline at 888-730-5816 for assistance in 7 languages, including English, Spanish, Mandarin, Vietnamese, Korean, Hindi, and Urdu.
A recording of the press conference is available here. 
"We're making sure we let everyone know that there's still an opportunity for you to get registered to vote, but you need to do so today. When we register to vote, we're able to use that vote to change the trajectory of our nation," said Congressman Hank Johnson.
"We have the opportunity on January 5 to elect two United States senators – two partners – willing to work with the Biden administration to do what is needed to enhance Georgia and move the nation forward, and everyone needs to be registered in order to participate in this historic election."
"We need to give President-elect Joe Biden and Vice President-elect Kamala Harris a Congress that they can work with to build our country back better.
Jon Ossoff and Raphael Warnock are committed to working with the incoming administration to fight against the COVID-19 pandemic, make sure that everyone has access to health care, that our public education systems are strong, that we build our economy back better for small businesses, and that we're supporting working families," said Atlanta School Board Chairman Jason Esteves. "It is time for us to finish this fight. Our work is not yet done."
"Between now and January 5, every day is election day here in Georgia. But we just can't vote – we have to mobilize our communities, our friends, and our family and make sure that they are registered to vote, that they have a plan to vote, and that they actually vote before January 5," said State Representative Dar'shun Kendrick.
"The reason that we flipped Georgia blue in November is all thanks to the voters, the volunteers, and the supporters from every community and every part of our great state. Now we need your support and hard work again to make sure that we elect Jon Ossoff, Reverend Raphael Warnock, and Daniel Blackman in January."