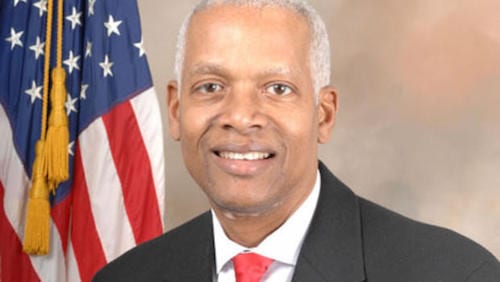 WASHINGTON, D.C. – Today, Congressman Hank Johnson (GA-04) announced his support of The Heroes Act—strengthened, bold legislation to address the coronavirus health and economic crisis.
The House Democrats' latest legislation would provide a second round of direct payments of up to $6,000 per household; extend weekly $600 federal unemployment compensation until January 2021; provide $10 billion for COVID-19 emergency grants to small businesses and nonprofits; and increase food stamp benefits and other measures to address the pandemic.
Johnson said The Heroes Act would mean nearly $1 billion in investment in 2020 and 2021 for the Fourth Congressional District, which includes portions of DeKalb and Gwinnett and all of Rockdale counties.
"I support federal aid to help state and local governments cover revenue shortfalls caused by the coronavirus economic disruption," said Johnson, who is returning to Washington to vote on the measure. "Such assistance protects the jobs of public safety employees, teachers, transit workers and other essential employees who provide vital services that people depend on."
Johnson said the COVID-19 pandemic has resulted in more than 80,000 deaths, more than 1.3 million confirmed cases and more than 33 million initial unemployment claims in the past seven weeks.
Johnson and House Democrats unveiled the legislation to:
Commit another $75 billion for the testing, tracing and treatment needed for a science-based path to safely reopen the country and ensure that every American can access free coronavirus treatment.
Provide nearly $1 trillion for state, local, territorial and tribal government first responders and other vital workers. The Heroes Act will also establish a $200 billion Heroes' fund to ensure that essential workers receive hazard pay.
Provide a second round of direct payments to families up to $6,000 per household, new payroll protection measures to keep 60 million workers connected with their jobs and extending weekly $600 federal unemployment payments through next January.
Support small businesses by strengthening the Payroll Protection Program to ensure that it reaches underserved communities, nonprofits of all sizes and types and responds flexibly to small businesses by providing $10 billion for Covid-19 emergency grants through the Economic Injury Disaster Loan program.
Ensure further support for Americans, including for:
o          health security – with COBRA subsidies and a special enrollment period in the Affordable Care Act
exchanges for those without insurance
o          workplace security – requiring OSHA to ensure that all workplaces develop science-based infection control plans and preventing employers from retaliating against workers who report problems.
o          Housing security – with $175 billion in new supports to assist renters and homeowners to make monthly rent, mortgage and utility payments and other housing-related costs.
o          Food security – with a 15 percent increase to the maximum SNAP benefit and additional funding for nutrition programs that help families put food on the table.
Provide new resources to ensure safe elections, an accurate Census, and preserve the Postal Service.
Estimated allocations for GA-04 under the Heroes Act
                                                                       2020                            2021
DeKalb County
$284,673,469
$142,336,734
Avondale Estates
$1,038,085
$519,043
Brookhaven
$17,820,905
$8,910,453
Clarkston
$4,198,749
$2,099,375
Decatur
$8,469,250
$4,234,625
Doraville
$3,464,454
$1,732,227
Lithonia
$774,121
$387,060
Pine Lake
$250,470
$125,235
Stonecrest
$17,944,988
$8,972,494
Stone Mountain
$2,081,437
$1,040,718
Tucker
$11,916,589
$5,958,294
DEKALB TOTALS:
$352,632,517
$176,316,258
Rockdale County
$34,078,469
$17,039,235
Conyers
$5,273,039
$2,636,520
ROCKDALE TOTALS:
$39,351,508
$19,675,755
Gwinnett County
$351,016,183
$175,508,092
Lilburn
$4,161,557
$2,080,779
Loganville
$4,124,694
$2,062,348
Norcross
$5,451,430
$2,725,715
Snellville
$6,551,721
$3,275,861
GWINNETT TOTALS:
$371,305,585
$185,652,795
Newton County
$41,894,742
$20,947,371
Covington
$4,612,799
$2,306,399
Oxford
$761,285
$380,642
Porterdale
$486,129
$243,065
NEWTON TOTALS:
$47,754,955
$23,877,477
GA-04 TOTALS:
2020 Allocation
2021 Allocation
$811,044,565
$405,522,285
TOTAL HEROES ALLOCATION TO GA-04
$1,216,566,850