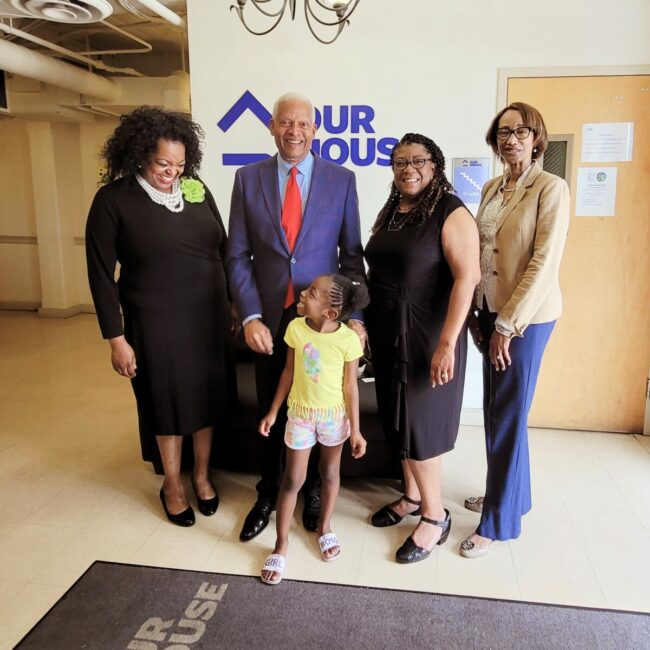 ATLANTA, GA—For the July 14 national roll-out of the Child Tax Credit, Congressman Hank Johnson teamed up with local non-profit, Our House, United Way and the IRS to encourage families to be on the lookout for advance monthly payments of the Child Tax Credit of up to $300 per month per child from now through December.
"Help is here. Child Tax Credit Monthly Payments will help America's children and put more money in the pockets of hardworking parents sooner to pay for childcare or put gas in the car so they can go to work and help fuel our economy while building better lives for their families," said Johnson. "The working people. The so-called little people are the people who are working hard out here and actually paying taxes. This Biden tax credit is a transformational part of the American Rescue Plan to benefit 27 million families and it will cut child poverty in half."
Johnson said 52,200 households, covering 91.2% of all children, in Georgia's Fourth Congressional District could get up to $300 per month per child July-December and even more after filing their taxes next year.
"It was a pleasure having Congressman Johnson, Economy Jackson of the United Way and Tracy Carter of the IRS with us to share the work we do for families experiencing homelessness and to have them talk with our families about the new Child Tax Credit," said Our House President & CEO Tyese Lawyer. "We are excited to see the incredible impact these credits will have and we look to continue to partner with the Congressman, the United Way and the IRS to serve the families in our community."
"At United Way of Greater Atlanta, we're focused on the well-being of children, families and communities across our 13-county region," said United Way of Greater Atlanta Director Asset Building, Income Economy Jackson. "One of our most important areas of work is economic stability. We know that every person whose life we change will go on to change the lives of countless others. And when we work together —pooling our resources, time, and energy — our community impact grows exponentially The Advance Child Tax Credit (ACTC) will give families the needed resources to help them thrive and move forward in their economic recovery."
The event was steamed live from Congressman Johnson's Facebook account.
For more information on the benefits, who qualifies and how to ensure you receive your credits,
visit the Child Tax Credit section at irs.gov.