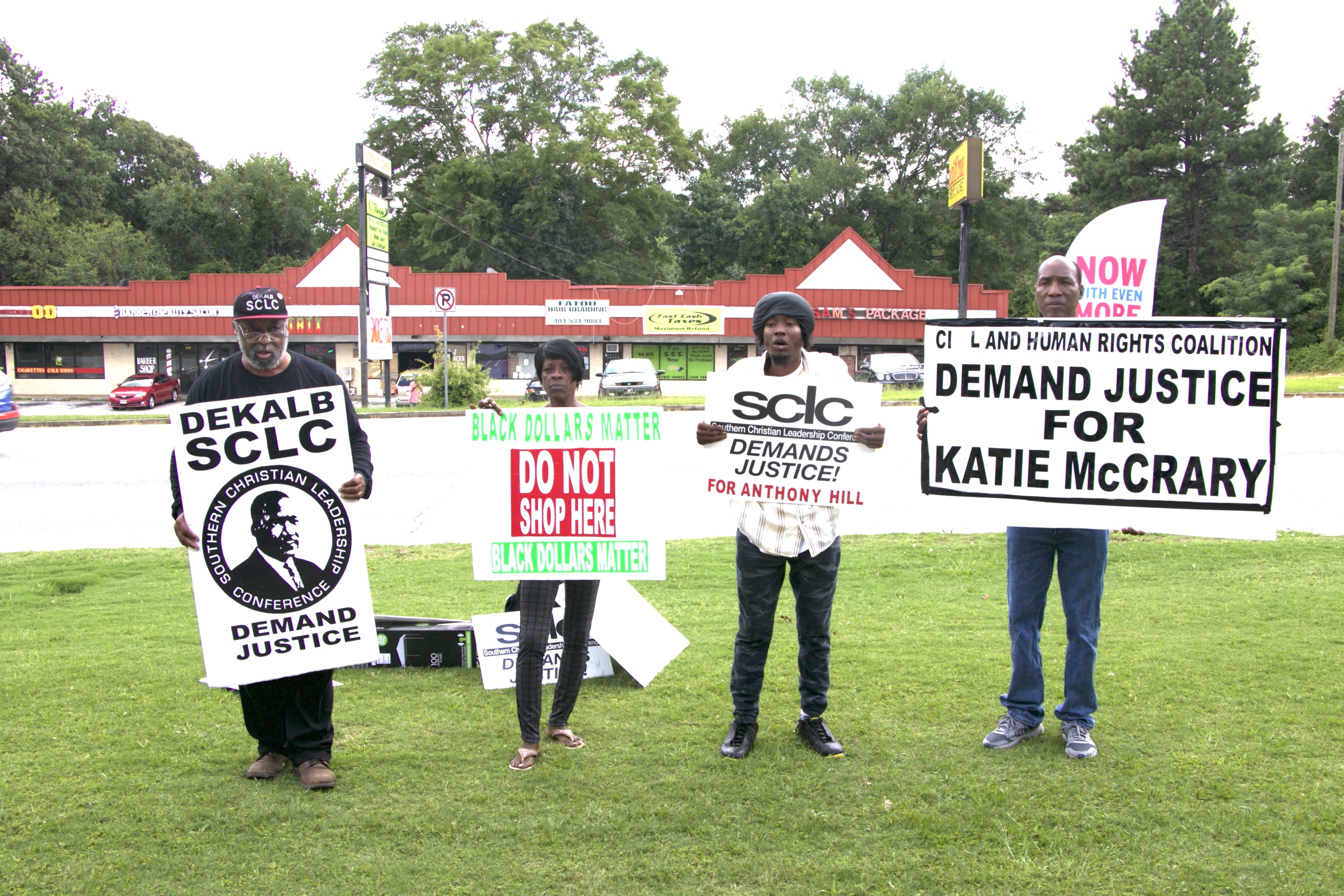 Public pressure is mounting for swift action against the DeKalb County police officer who beat a homeless woman with his baton inside a convenience store.
Today, the DeKalb Chapter of the SCLC and other civil rights organizations boycotted the Chevron, 3364 Glenwood Road, where the incident took place on June 4. They called for justice in the investigation involving Officer P.J. Larscheid, a white DeKalb police officer, who beat Katie McCrary, a 38-year-old black woman. Larscheid said police were called to the store after the woman was suspected of asking a customer for money.
Nathan Knight of the DeKalb SCLC said they would boycott until justice is served.
"If we don't stand up when these type of atrocities take place in our neighborhood, we're not going to have anybody to defend our rights. Black lives do matter," said Knight.
Demonstrators said they plan to pitch a tent at the convenience store where McCrary was beaten.
Knight said he is angry that the police officer was initially cleared without an in-depth investigation.
"If it hadn't been for the video someone took, we would never have known what happened," Knight said.
Larscheid filed a "Use of Force" report after the June 4 incident and was cleared by his supervisors. The Police Department's Internal Affairs Division re-opened its investigation last week after a cell phone video of the beating went viral.
DeKalb Police spokeswoman Shiera Campbell said Internal Affairs is now reviewing the video to determine if the incident is consistent with the narrative, policy and the law, Campbell said.
With mounting pressure from the community, DeKalb CEO Michael Thurmond called on the GBI last week to launch an independent investigation.
Meanwhile, the DeKalb Pastors Alliance, headed by Pastor Steven Dial, Sr., of Rainbow Park Baptist Church in Decatur, the DeKalb NAACP and other groups and individuals are demanding justice.
New Order, Black Men Never Forget and Operation Lead plan to protest on Tuesday morning outside the Maloof Auditorium in downtown Decatur, said Josie Dean, who is coordinating the demonstration.
State Rep. Renitta Shannon (D-Decatur), along with other members of the Georgia General Assembly and local officials, plan to hold a press conference on Tuesday afternoon to discuss the case
"The community and I are deeply disturbed by this officer's actions," said Rep. Shannon. "I realize that this incident is currently being investigated by the GBI, but I have reached out to DeKalb County Police Chief J.W. Conroy and have a meeting scheduled for Friday, July 21, to discuss concerns about community interactions with police."