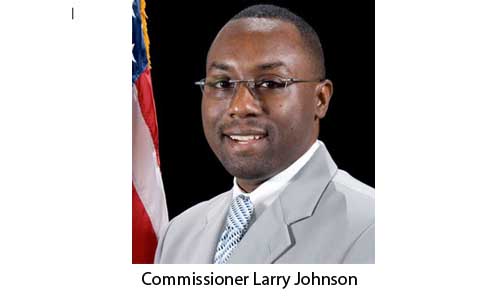 WASHINGTON, D.C.  – DeKalb County Commissioner and National Association of Counties (NACo) President Larry Johnson will discuss COVID-19 recovery efforts and infrastructure needs in DeKalb County and counties across the country tonight (Feb. 18) on "The Last Word" with Lawrence O'Donnell on MSNBC.
On Feb. 15, Johnson welcomed President Joe Biden to the NACo Legislative Conference in Washington, D.C. His introduction and President Biden's address can be viewed here.
"It was an honor to welcome President Biden to the NACo Legislative Conference. The American Rescue Plan and Bipartisan Infrastructure Law are helping DeKalb County recover from the pandemic, strengthen infrastructure and prepare for the future," said Johnson. "I am thrilled to highlight our county's story and the stories of counties across America."
Johnson will appear on The Last Word with Lawrence O'Donnell on MSNBC tonight(Feb. 18) at 10 p.m. EST.
Commissioner Johnson is committed to helping federal agencies understand that Counties Matter. "We must explain the role of counties and remind them that federal policies matter to county government and county government matters to America," said Commissioner Johnson.
He has been a constant advocate to push to get the largest bi-partisan infrastructure bill passed – $1.2 Trillion.  He partnered with federal agencies to get $65.1 Billion in
ARPA funds directly to counties.  As a result, DeKalb County Government will receive $147 Million and DeKalb County School District, $313 Million.
For more information, contact Commissioner Larry Johnson's office at 404-371-2425 or visit www.commissionerlarryjohnson.com.