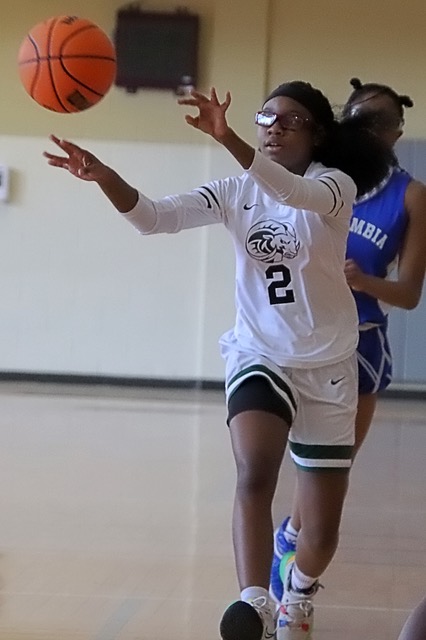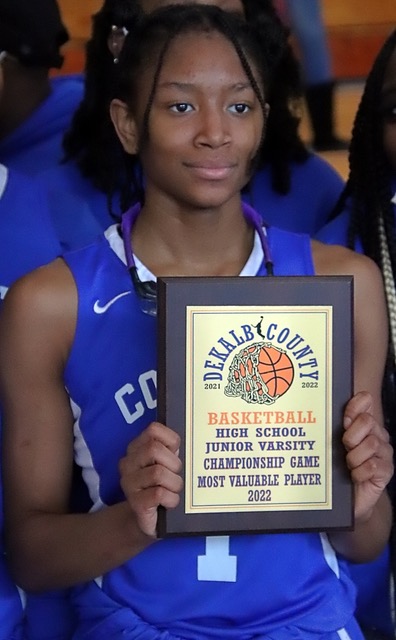 DEKALB COUNTY, GA–A 5-0 run in the final 37 seconds of the game sealed a 43-35 win for the Columbia Lady Eagles over the Arabia Mountain Lady Rams in the DeKalb County Junior Varsity Girls Basketball Championship on Saturday, Feb. 12, at Miller Grove High School.
Arabia Mountain's Caiden Bradford hit a runner coming in from the wing with 1:17 to play to pull the Rams within 38-35. A few seconds later the Rams got the ball back with the chance to tie the game when Columbia's Kerselin Anderson got a steal and was fouled with 37 seconds remaining in the game.
Anderson, the game's Most Valuable Player, hit both free throws to extend the lead to 40-35. A free throw by Taylor Moss and a basket by Jakiah Slaughter in the final 3.9 seconds sealed the victory.
Columbia took the lead heading into the half as Moss's baseline drive with 26 seconds to play in the first half made it 22-20. Arabia Mountain cut the deficit back two heading into the fourth quarter on a basket by Angel Sanford and a free throw by Kamiya Moore in the final 24 seconds to make it 29-27 in favor of Columbia
Shaniyah Lewis gave Arabia Mountain (10-1) its first lead since the first quarter with her layup on an assist from Bradford with five minutes to play. Anderson traded three pointers with Moore as the lead went back and forth over the next couple of minutes.
A steal by Ja'Torria McCommons led to a three-point play by Anderson with 1:53 remaining in the game to give Columbia the lead for good at 35-33. McCommons hit a three to extend the lead to 38-33 with 1:31 left on the clock.
Kerselin Anderson was named the game's Most Valuable Player finishing with a game-high 17 points to go along with 7 rebounds for Columbia. Jakiah Slaughter joined Anderson in double figures as she hit for 12 points and pulled down 16 rebounds.
Caiden Bradford topped the scoring charts for Arabia Mountain with 13 points and Kamiya Moore added 10 points of her own. Shaniyah Lewis contributed 3 points and 10 rebounds.
Story and photos by Mark Brock, Athletic Specialist for DeKalb County School District.