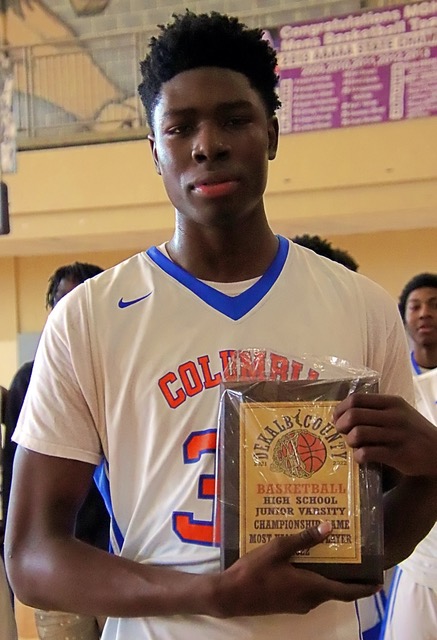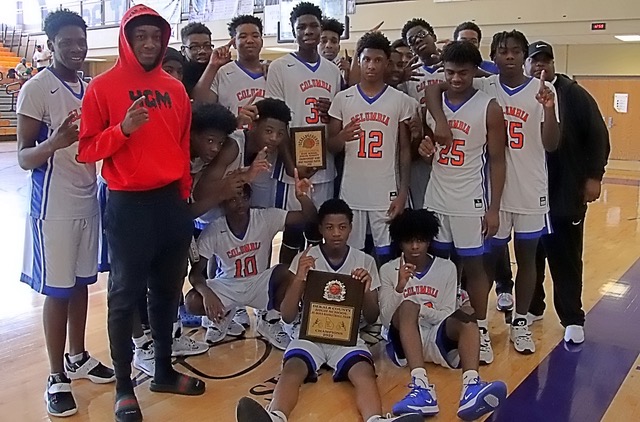 The Columbia Eagles led from start to finish in the DeKalb County Junior Varsity Boys Basketball Championship but had to hold off a furious fourth quarter rally by the Arabia Mountain Rams to claim a 58-49 victory.
Columbia (12-1) jumped out to a 11-0 lead to open the game and went up 32-22 with 4:27 to play in the third quarter on a three-pointer by Trevian Callaway before the Rams (10-3) began to chip away at the lead to pull within 36-32 at the end of the third quarter on a Jordan Miller runner in the lane.
Arabia Mountain pulled within two three times in the first two minutes of the fourth quarter, the last time on a layup by Julian Shanks on a feed from Miller at the 6:05 mark.
Jacob Mickell, who had scored the last six points for the Eagles, nailed a three-pointer from the right wing to start a 7-0 run that changed the game for the rest of the way. Callaway stole the inbounds following Mickell's three and fed Elijah McCoy for a layup for a quick five-point turnaround.
Mickell finished off the 42 second spurt with a layup on a McCoy assist to make it 47-38 with 5:10 to play.
Columbia's Mekhi Turner took over from that point scoring 10 of the next 12 points for the Eagles as the lead expanded to 59-42 with just 1:35 left on the game clock.
Jeremiah Randolph's three with 23 seconds to play cut the deficit to the final of 59-48.
Columbia's 35 Mekhi Turner was named the Most Valuable Player for the game, finishing with 19 points and 12 rebounds to lead the Eagles. Jacob Mickell finished up with 13 points and Trevian Callaway added 12 points in the win. 
Dewayne Shealy hit for 17 points in the loss for Arabia Mountain and Julian Shanks added 11 points and 11 rebounds.
Story and photos by Mark