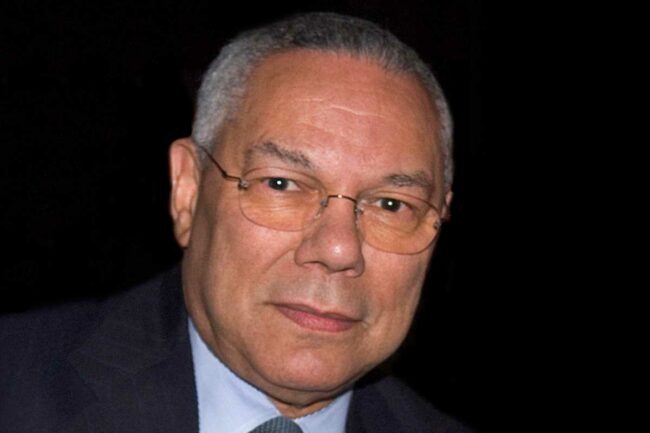 WASHINGTON – Former U.S. Secretary of State Colin Powell has died of complications from COVID-19, his family said in a statement today (Oct. 18).
Powell, the first African American to serve as chairman of the Joint Chiefs of Staff and secretary of state, was receiving treatment at Walter Reed National Medical Center in Maryland. He was 84.
Powell had multiple myeloma, a cancer of plasma cells that suppresses the body's immune response, as well as Parkinson's Disease, Peggy Cifrino, Powell's longtime chief of staff, confirmed to CNN. People who are immunocompromised are at greater risk from COVID-19 even if they are vaccinated as Powell was.
The Powell family posted a statement on Facebook after his death early this morning acknowledging that he was "fully vaccinated":
"General Colin L. Powell, former U.S. Secretary of State and Chairman of the Joint Chiefs of Staff, passed away this morning due to complications from Covid 19. He was fully vaccinated," the family statement reads. "We want to thank the medical staff at Walter Reed National Medical Center for their caring treatment. We have lost a remarkable and loving husband, father, grandfather and a great American." 
A Vietnam War veteran, Powell rose to the rank of four-star general and became the first Black national security adviser during the end of Republican Ronald Reagan's presidency. Powell was the youngest and first black chairman of the Joint Chiefs of Staff under Republican President George H.W. Bush.
Powell oversaw the U.S. invasion of Panama and later, the U.S. invasion of Kuwait to oust the Iraqi army in 1991. Powell's legacy was marred in 2003, when he went before the U.N. Security Council as secretary of state and cited faulty intelligence that Saddam Hussein had secretly stashed away weapons of mass destruction. 
A child up Jamaican immigrants, Powell grew up in New York with limited means to go on and become the nation's chief diplomat.
"Mine is the story of a black kid of no early promise from an immigrant family of limited means who was raised in the South Bronx," he wrote in his 1995 autobiography "My American Journey."
Powell is survived by his wife, Alma Vivian Johnson Powell and three children.