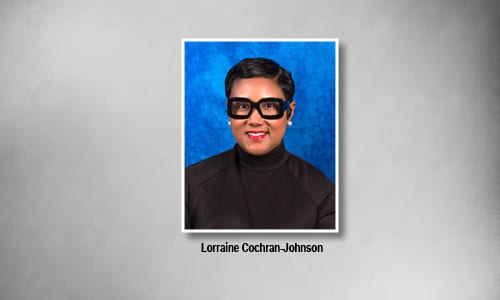 Super District DeKalb County Commissioner Lorraine Cochran-Johnson is launching a series of events designed to foster economic development within the county. The series will begin with a panel discussion, "The Conversation: Wealth & Empowerment," on Saturday, Feb. 23, 10 a.m. to noon, at the AEI Startup Factory, 7310 Stonecrest Concourse, Stonecrest.
"I'm excited to begin the implementation of my platform. I'd like to encourage DeKalb residents to become business owners as a way to change the landscape of our communities," said Cochran-Johnson. "It is my intent to bridge people with resources, education, and information that empowers them to change their lives. My network gives me access to great people who have been successful in business. It is rare you are given access to such dynamic business minds, so I hope the community will come out and take advantage of the opportunity to learn from business legends."
Featured speakers for the panel discussion include veteran business people, who will share their expertise:
Mack Wilbourn, owner and President of Mack II, Inc., a fast-food
management company with franchises including Popeye's Chicken & Biscuits, Checkers Hamburger and Edy's Ice Cream, all located at Hartsfield-Jackson Atlanta International Airport.
Sterling Coleman, president and CEO of SJAC Food Groups d.b.a. Zaxby's. Coleman also is a JV partner with SSP America at the Raleigh-Durham International Airport. SJAC manages several national fast
casual concepts along with three international brands boasting annual revenues over $7 million. Sterling manages alongside his son, Sterling
Coleman Jr.
Yolanda Owens, president and CEO of Iwi Fresh, a nationally acclaimed Atlanta-based day spa catering to everyone from celebrities to working women. Iwi Fresh features gourmet skincare products and hand-crafted body recipes.
The event also will provide financial resources to those who are interested in starting their own businesses. Following the panel discussion,  attendees will complete business interest forms that disclose their needs. Operation Hope representatives will be onsite to pull credit profiles.  Information also will be provided on franchise opportunities and credit repair. Attendees will be paired with the appropriate entity to receive the help they need to move forward as citizens and entrepreneurs.
Developed as a precursor to the main event, the panel discussion will be followed on April 6 with DeKalb's largest franchise expo at Porter Sanford Performing Arts Center.
"I have worked alongside franchise and business experts to assemble franchise and business opportunities requiring investments as little as $10,000 up to $2 million," said Cochran-Johnson "I will have an opportunity for everyone, all you have to do is come with an open mind and a desire to become a business owner and we will help you. I am convinced the lack of development within south and unincorporated DeKalb is not by chance—it is by design. Businesses have chosen consciously not to locate within certain areas of DeKalb, so if we want to change the landscape of the businesses within our communities, we will need to own more service-oriented businesses and franchises."
Due to limited space, attendees must RSVP at amslocum@dekalbcountyga.gov.