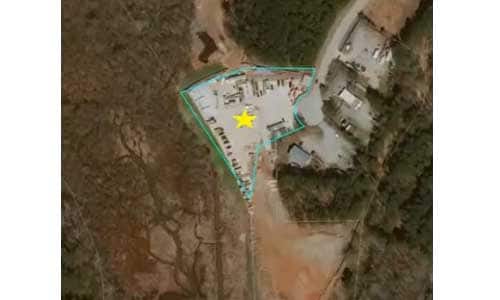 STONECREST—The City Council on Nov. 23  unanimously denied a request by 404 Concrete, LLC  to rezone 2.2 acres at 2547 Lithonia West Drive from M (light industrial) to M-2 (heavy industrial) for the operation of a concrete mixing plant. The vote was 5-0. Mayor Jason Lary was on sick leave and did not attend the meeting.
The council reached its decision after holding a public hearing in which two residents submitted opposition letters that were read by Deputy City Clerk Sonya Isom during the virtual meeting. City staff had  recommended denial, saying the subject property is located within a light industrial area and the proposed rezoning would not be in keeping with the policy and intent of the Stonecrest Comprehensive Plan if it were rezoned heavy industrial.
Ron Kennebrew, who owns 404 Concrete, LLC, said the community is unfairly comparing his business to Metro Green Recycling Three, LLC. The City of Stonecrest, which is in litigation with Metro Green, is seeking to halt construction of the Metro Green plant, which crushes and recycles construction materials.
City Attorney Winston Denmark has argued during the ongoing hearing that the state of Georgia's Department of Environmental Protection Division(EPD) issued Metro Green a land disturbance permit based on a verification letter that it obtained from the City of Stonecrest's City Manager at the time, bypassing DeKalb County's Waste Management Department's decision to deny permitting the project. Community residents have opposed the plant, saying that it would bring pollution to the area and harm property values.
Kennebrew said his company mixes concrete—not crushes it. 404 Concrete also uses water sprays, enclosures, hoods and central duct collection systems for air quality control.
"We're not trying to poison any one or ourselves," said Kennebrew, adding that family members work in his business. "We have the state-of-the-art technology to make sure the air is clean and definitely the water is clean. …I don't really know why they're (community residents) are saying that we're doing recycling because we're not doing concrete recycling…  They're comparing us to Metro Green is just bizarre. We are not anything like Metro Green. We're manufacturing…concrete with water, gravel and cement."
Kennebrew had originally submitted a request for rezoning in July but said he withdrew the application to try to find another location in the city for his company. He said he was unsuccessful.
Mayor pro tem George Turner asked if anything had changed since the staff's recommendation for denial the first time that Kennebrew requested the rezoning and then withdrew the request.
Planning and Zoning Director Chris Wheeler said the only thing that materially had changed was that the city engineer had determined that stormwater runoff from the proposed plant would be significantly cleaner due to the company's filtration system.
"Staff's issue, again, is the specific use (for the property) in being solely heavy industrial. If this use were allowed in light industrial, there wouldn't be a question at all," Wheeler said.