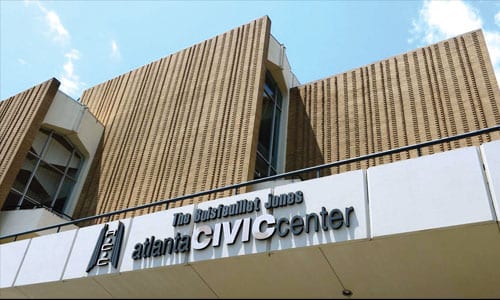 The City of Atlanta has completed its sale of the Civic Center to the Atlanta Housing Authority (AHA) for $31 million.
AHA will partner with Weingarten Realty Investors to develop affordable housing on the site, retail and commercial space. Weingarten is the Texas firm that began talks with the city for the purchase in 2015 but reached an impasse in 2016.
Mayor Reed said with the close of the sale, he is excited about the future for the site.
"Good things take time. Through its focus on affordable housing, the redevelopment of the Civic Center property will give families and working people the opportunity to live in an area with access to transit, employment and good schools. Moreover, this new development will be an asset to the neighborhood, further adding to the vibrancy and vitality of Midtown and downtown Atlanta," Reed said. "I am thankful to our partners in this effort, and am excited to see what the future holds."
Officials project the investment at $300 million and expect the initial development phase to be two to three years.
Through its HomeFlex program, AHA will build 250 low-income housing units. Through its bond inducement requirements, Invest Atlanta will support development of at least 10 percent workforce housing units. Overall, at least 30 percent of new residential units will be affordable to low-income and working families.
"We're happy that we can help execute this game-changing acquisition," said Catherine Buell, president and CEO of the Atlanta Housing Authority. "As the site land owner, we can collaborate with all parties in a way that allows AHA to structure and guarantee a level of permanent affordability."
The mixed-use development will also include a performing arts venue, officials
"The redevelopment of the Civic Center will be a transformative project for north Downtown, bringing new jobs, investment, and amenities to the area," said Rosalind Rubens Newell, general counsel for Invest Atlanta. "It will also create much-needed affordable workforce housing in the heart of our city, making it easier for more city residents to live near employment centers like Midtown and Downtown."
AHA will also partner with Southface Energy Institute to emphasize green building and sustainability efforts, and will develop a program to ensure residents are able to be part of the development effort and the sustainability movement.
The City of Atlanta issued requests for proposals to purchase and redevelop the Civic Center in 2015. After initial conversations for a sale stalled, Reed sought out new opportunities to jumpstart the process and to redevelop the site.
In 2016, Reed approved an ordinance requiring developers receiving public subsidies and incentives to set aside 15 percent of units for affordable housing.
Reed announced plans to sell the Civic Center to AHA for redevelopment in August of this year. The facility was built in 1968 in the historically African-American community known as Buttermilk Bottom. The Civic Center was previously a performing arts center and the site also included the SciTrek museum.