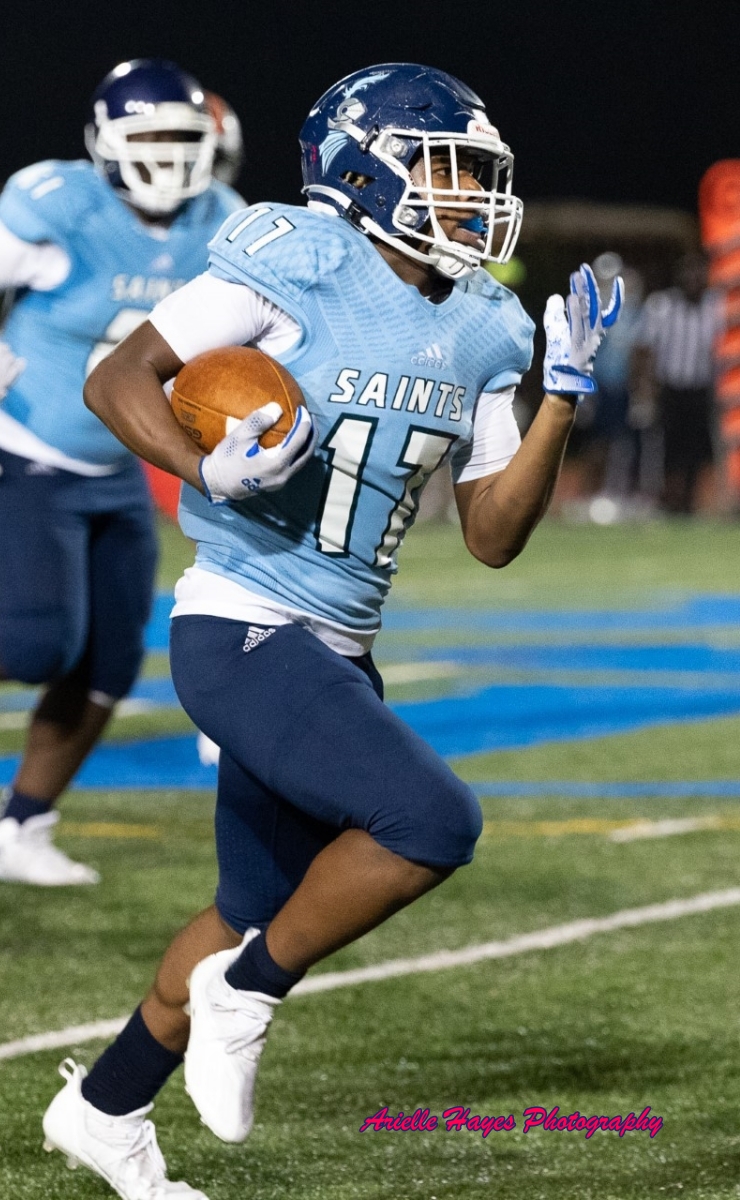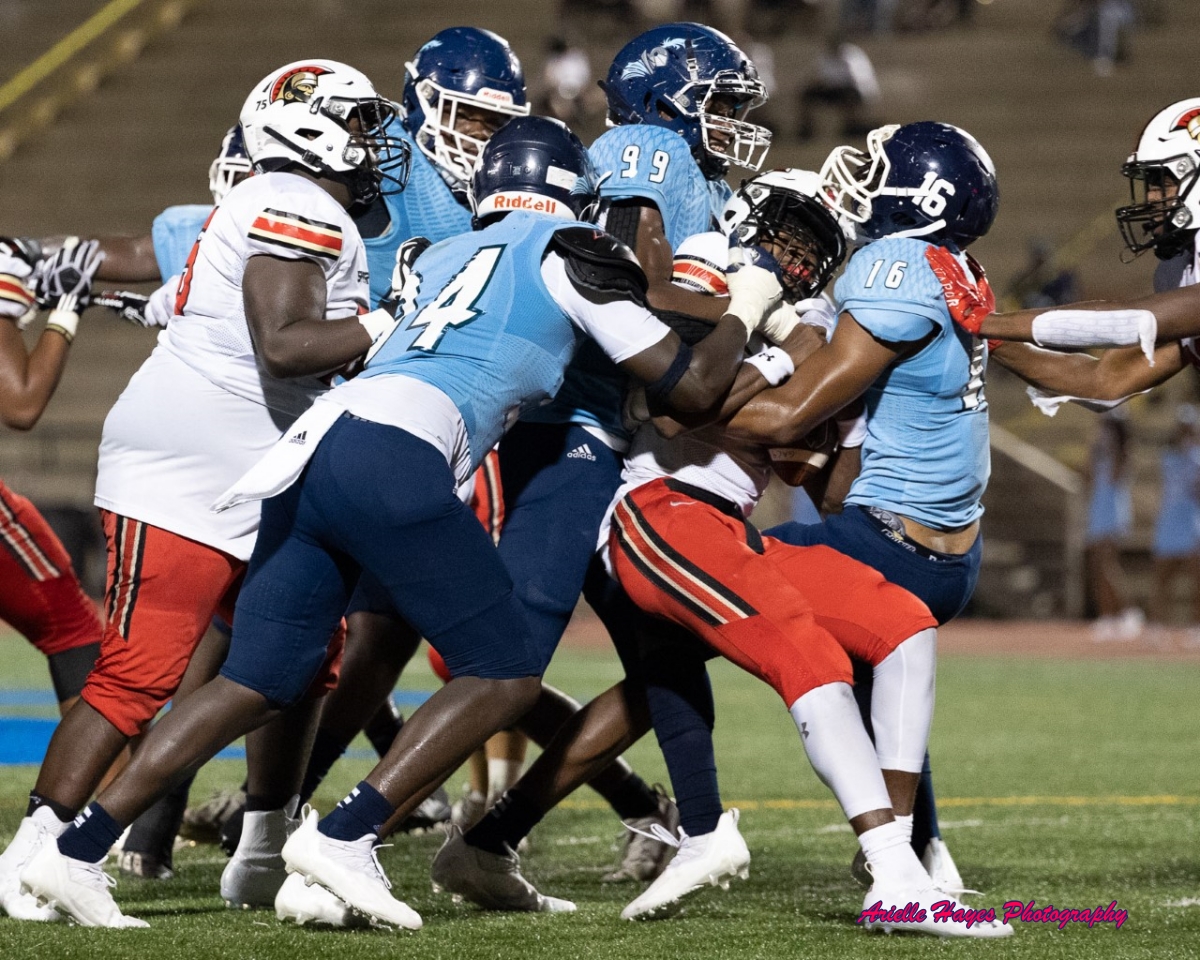 By Mark Brock
A shutout by the No. 1 ranked Cedar Grove Saints defense and a big second half surge by their offense added up to a Region 5-3A opening 47-0 victory over Greater Atlanta Christian(GAC) at "Buck" Godfrey Stadium on Friday (Sept. 17.
The defense held the Spartans (0-4, 0-2) to just 65 yards of total offense and a minus-10 yards rushing while scored the first touchdown of the game on a first quarter interception and 11-yard return for the touchdown by Kayin Lee. Amari Forte added the PAT for the 7-0 lead.
Trevon Ferrell extended the lead by grabbing an eight-yard pass from Jamar Graham along the right sideline and racing 40 yards for the score. Forte tacked on the PAT to send the Saints into the half up 14-0.
Graham added a 34-yard toss to a leaping Janiran Bonner near the goal line early in the third quarter who fell into the end zone for the touchdown. Forte again tacked on the PAT to make it 21-0.
Demarcus Smith (6 carries, 140 yards, 2 TDs) had a 40-yard touchdown run in the game as he got into the 100-yard club with two touchdowns for the Saints. Rashod Dubinion (10 carries 85 yards) added two touchdowns to the scoring as well.
The Saints improved to 2-1 overall and 1-0 in Region 5-3A.
SW DeKalb 34, Tucker 9 
Two defensive touchdowns helped propel the Southwest DeKalb Panthers (1-3) to a 34-9 victory over the Tucker Tigers (0-4) at Hallford Stadium on Friday night.
Wesley Brown returned a fumble 39 yards and Sabian Campbell had a pick-six return of 27 yards for the Panthers defense that limited the Tigers to just 103 yards of total offense.
James Carswell ran for just 54 yards on three carries but added a pair of touchdown runs to help the Panthers' offense. Quarterback Sadir Ryan and Ali Dargan teamed up for a 41-yard scoring pass. Running back Billy Johnson helped Southwest control the ball rushing for 126 yards on 20 carries.
The Panthers picked up their seventh win in the series closing the gap to 14-7-1 in the rivalry.
Chamblee 51, Woodland-Cartersville 21 
Fabian Walker went over 1,100 yards passing on the season with 376-yard, five-touchdown  passing performance to lead the Chamblee Bulldogs to a 51-21 victory over Woodland-Cartersville at North DeKalb Stadium on Friday night.
Walker teamed up with Jameel Avery (3 receptions, 95 yards) for a pair of the touchdowns through the air. Seven completions, 136 yards and another touchdown went to Jordan Thornton while Connor Pressnall and Xander Smith contributed touchdown receptions.
Smith also had a two-pointer conversion via a pass from Walker and Sydyk Ross added a safety. The Bulldogs improved to 4-1 on the season.
Columbia 34, Therrell 14 
The Columbia Eagles (3-1) improved to 2-0 in Region 6-2A powered by 20 unanswered second half points with a win a 34-14 win over Therrell at Lakewood on Friday night.
The game was tied 14-14 at the half and Therrell received the second half kickoff to go on offense. Columbia's Preseason All-State defensive lineman ended Therrell's possession on the first play of the half with a sack for a safety to give the Eagles the lead for good at 16-14.
Roland Edwin extended the lead to 22-14 with a 15-yard touchdown run with 4:14 left in the third quarter. Lamaze Williams added a nine-yard scamper of his won with 6:11 to play to push the advantage out to 28-14.
Royce Tolbert put the icing on the cake striking for a 29-yard touchdown run with 4:53 remaining for the final of 34-14. Edwin (15 yards) and Tolbert (43 yards) accounted for the two first half touchdowns for the Eagles.
Stone Mountain 24, North Springs 23 
An eight-point rally in the final two minutes at North Springs propelled the Stone Mountain Pirates to a 24-23 victory over the host Spartans on Friday night.
North Springs took a 23-16 advantage with less than four minutes to play and then held the Pirates forcing a punt to take the football with 2:57 to play in the game.
It was the Pirates' defense turn to hold tough forcing a fourth and four at the North Springs 47. The Spartans tried to draw the Pirates off to get the first down, but the Pirates held steady forcing North Springs to call a timeout.
The Spartans came out to punt and two five-yard penalties later were at their own 37 in punt formation. The snap for the punt sailed over the punter's head resulting in a safety to pull Stone Mountain within five at 23-18.
Stone Mountain returned the kick 23 yards to the North Springs 41 with 1:33 to play. Devonte Cemexan dropped back on the first play only to get a strong rush and his throw went incomplete setting up a second and 10.
On second down Cemexan dropped back and threw down the left side to Jaylen Patterson. Patterson out leaped a pair of defenders at the three-yard line and spun into the end zone for the winning score.
The Pirates held North Springs to seal the win. Cemexan had a 40-yard touchdown, Jabril Dixon a pick-six and Amon Martin a safety to help account for the Pirates points. Stone Mountain is now 4-0 for the first time since 2000 when they also beat North Springs (21-7) for their fourth win.
DCSD FOOTBALL – WEEK 5 RESULTS 
Friday, Sept. 17 
ADAMS STADIUM 
Madison Co. (2-1) vs. Druid Hills (0-4) (cancelled)
Cherokee Bluff (4-0) 56, Lakeside (1-4) 0)
AVONDALE STADIUM 
Langston Hughes (4-1) 55, M.L. King (0-4) 0
"BUCK" GODFREY STADIUM 
Cedar Grove (2-1)* 47, Greater Atlanta Christian (0-4) 0
HALLFORD STADIUM 
Carver-Atl (3-1) 54, Redan (2-1)* 6 
SW DeKalb (1-3) 34, Tucker (0-4) 9
NORTH DEKALB STADIUM 
Chamblee (4-1) 51, Woodland-Cartersville (1-4) 21
AWAY GAMES 
Decatur (4-0) 26, Arabia Mountain (2-2) 14
Clarkston (1-0) at Monroe Area (3-0) (cancelled)
Columbia (3-1) 34, Therrell (0-4) 14
Notre Dame Academy (1-2) 39, Cross Keys (0-3) 0
Norcross (3-2)* 54, Dunwoody (1-3) 0
McNair (0-3) vs. Pace Academy (1-3), (cancelled)
Stone Mountain (4-0) 24, North Springs (1-4) 23
OPEN: Lithonia (0-3), Miller Grove (3-0), Stephenson (4-0), Towers (1-2)
Mark Brock is the Athletics Specialist for the DeKalb County School District (DCSD).