By Mark Brock
DCSD Athletics Specialist
DeKalb County School District's (DCSD)Cedar Grove Saints face another Region 5-3A team for the fourth time this season as they take on the Sandy Creek Patriots in the Class 3A Boys' Basketball State Championship game at on Friday, March 10, 3 p.m.  in the Macon Coliseum.
Cedar Grove (20-9) defeated Region 5-3A foe Douglass (16-14) 61-45 in the semifinals in the two teams' fourth meeting of the season. Region 5-3A had three of its four teams reach the Final Four in both basketball and football this school year.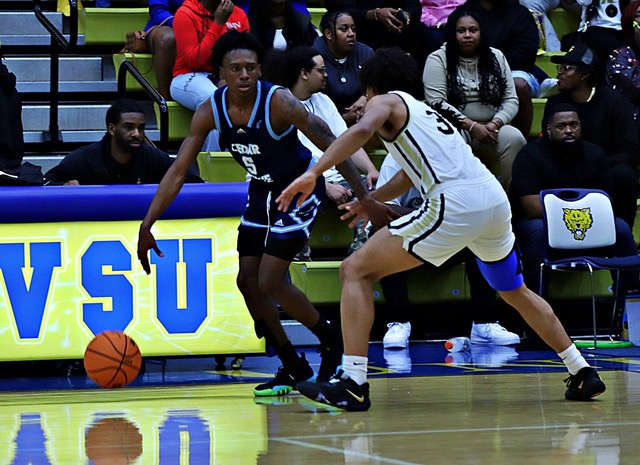 Friday a state title is on the line as No. 2 ranked Sandy Creek (25-6) faces No. 7/8 ranked Cedar Grove for the state championship trophy. The two schools also faced off in the Class 3A football state title game last December with Sandy Creek coming out the winner.
The Saints have marched to Macon with wins over Lafayette (73-53), #4/3 Monroe Area (62-55), Long County (94-91 in 2 overtimes) and Douglass (61-45) in the semifinals to reach the title game. Cedar Grove is averaging 72.5 points per game while allowing 61.0 points per game along the way.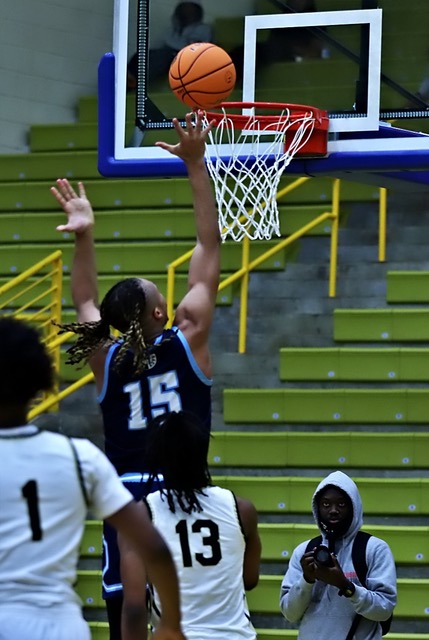 Freshman Emmanuel Green leads the Saints in scoring with 15.6 points per game in the regular season followed by senior Jaylen Adside (14.5), senior Darius Reynolds (13.7) and sophomore EJ Colson (12.0). Reynolds leads in rebounding with 10.7 per game and Green is pulling down 8.3 rebounds per contest. Adside is averaging 4.4 assists per game and Colson is averaging 1.4 steals.
Green and Reynolds were All-Region 5-3A picks this season.
Sandy Creek defeated Ringgold (100-57), Wesleyan (68-22), #1 Johnson-Savannah 56-50 and #3/4 and two-time defending state champion Cross Creek 54-35 to earn a trip to the title game.
Region 5-3A Player of the Year Micah Smith (6-8, JR) leads the way for Sandy Creek along with First Team All-Region selections Vic Newsom (6-0, SR) and Amari Brown (6-3, JR).
This is the Saints second state title game appearance and the first since 1997 when they defeated Greene-Taliaferro 88-65 to claim the Class 2A championship.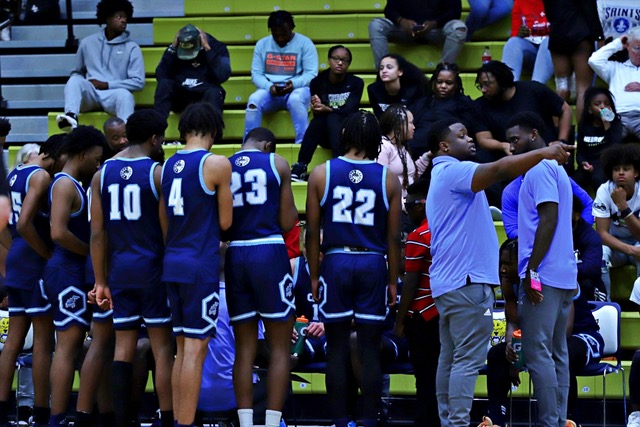 CLASS AAA CHAMPIONSHIP
CEDAR GROVE SAINTS (19-9) vs. Sandy Creek Patriots (25-6); No prior playoff meeting. Fourth meeting this season: Sandy Creek has won all three meetings, including the Region 5-3A championship game. Sandy Creek won at home 91-56, at Cedar Grove 71-48 and at Sandy Creek 76-52.
Head Coach: Kendrick Callier, 20-9 in 1st Season at Cedar Grove; Overall 20-9; 4-0 in State playoffs
Columbia Playoff Record: 36-19 (5th All-Time in DeKalb Co.), 4-0 in 2023
Playoff Appearances: 20, (first since 2020) (8 consecutive from 2013-2020)
Sweet 16 Appearances: 19, (First since 2020) (7 consecutive from 2014-2020)
Elite 8 Appearances: 15, (first since 2019) (3 consecutive 2014-16)
Final Four Appearances: 8,  (first since 2016)
Title Game Appearances: 2, (first since 1997)
Championships: 1 (1997), defeated Greene-Taliaferro 88-65 in Class 2A
Rankings: Cedar Grove #7 in Sandy's Spiel, #8 in Score Atlanta; Sandy Creek #2 in Sandy's Spiel, #2 in Score Atlanta
Playoff Results:
First Round: Cedar Grove 73, Lafayette 53; Sandy Creek 100, Ringgold 57
Second Round: Cedar Grove 62, #4/3Monroe Area 55; Sandy Creek 68, Wesleyan 22
Third Round: Cedar Grove 94, Long County 91; Sandy Creek 56, #1 Johnson-Savannah 50
Semifinals: Cedar Grove (20-9) 61, Douglass (16-14) 45; Sandy Creek 54, #3/4 Cross Creek 35
Championship: #7/8 Cedar Grove (20-9) vs. #2/2 Sandy Creek (25-6)
Playoff Averages for 3 Rounds:
Points Scored: Cedar Grove 72.5 (290); Sandy Creek 69.6 (279)
Points Allowed: Cedar Grove 61.0 (244); Sandy Creek 41.0 (164)
REGULAR SEASON STATISTICAL LEADERS (23 Regular Season Games)
Points: Emmanuel Green 15.6 (359) (FR, F), Jaylen Adside 14.5 (304) (SR, PG), Darius Reynolds 13.7 (314) (SR, F), EJ Colson 12.0 (144) (SO, G)
Rebounds: Darius Reynolds 10.7 (247) (SR, F), Emmanuel Green 8.3 (192) (FR, F)
Steals: EJ Colson 1.4 (17) (SO, G), Jaylen Adside 1.0 (20) (SR, PG)
Assists: Jaylen Adside 4.4 (92) (SR, PG), EJ Colson 2.4 (29) (SO, G)
Blocks: Harlin Perine 2.9 (61) (FR, F, INJ), Darius Reynolds 1.2 (28) (SR, F), Emmanuel Green 0.9 (21) (FR, F)