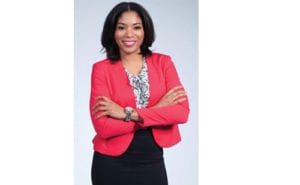 Attorney Dayna Thomas specializes in entertainment and entrepreneurship law. In this exclusive On Common Ground News Q&A, Attorney Thomas offers a look into the intricate world of business law and a legal perspective to business owners and entrepreneurs on how to best manage their businesses.
"Entertainment and entrepreneurship are exciting areas of law for me because my clients are driven by passion – passion for their art or their business. As a creative business person, this provides a good foundation for a close attorney-client relationship."
The Emory Law graduate said she was inspired to start her own practice after a series of clerkships and internships with private practices. Thomas said it was these opportunities that gave her the exposure necessary to see what it takes to run a law office.
"I had so many ideas for how to make the firms better. Many of those ideas, however, deviated from traditional lawyering, which made me feel creatively stifled. My ideas for my firm would keep me up at night, and I was motivated by the fact that I would be in control of how much money I could make."
Thomas said that having her own practice allows her to combine her legal education and zest for entrepreneurship. Thomas not only offers her clients legal counsel but also provides strategic marketing strategy services. This holistic approach to client care allows her to serve her clients in a more meaningful way that benefits both parties' longevity.
Q: What does an entertainment/business lawyer do?
A: On the entertainment side, I represent talent and executives in the industry regarding music, film and television, fashion, and other artistic endeavors. Some common transactions are recording agreements, talent contracts for reality TV shows, film production agreements, trademark licensing, endorsement deals, and book publishing. It's my job to make sure that my clients' interests are protected by ensuring proper rights are granted and that they get adequate payment for their work.
On the entrepreneurship side, I help aspiring and current business owners establish, maintain, and protect their businesses by making sure they have a solid legal foundation. A shrewd business lawyer is able to navigate several legal services such as trademarks, negotiations, commercial leases, product licensing and a variety of other transactions.
I also handle pre-litigation disputes, which means that I help resolve business disputes out of court.
Q: Why do small business owners need a lawyer? Why don't they use them?
A: A good business lawyer can help entrepreneurs stay in business. We can save our clients from entering into bad deals, which could result in financial loss. In my practice, it's important for me to know what my clients' business goals are so that I can help them decide if the deal is congruent with their needs. It's crucial for small business owners to have contracts for their business transactions and to have contracts that are presented to them reviewed. Not only do we draft and review the contracts, but we're also skilled in negotiating so that clients are free to focus on maintaining positive relationships and still get what they want out of the deal.
Business lawyers also help keep the business's assets protected. We help clients think about things they haven't considered such as who really owns their logo – an important part of their brand. I've come across so many business owners using a logo that they unknowingly did not own. Just because you paid for a logo doesn't mean you own it. These are legal traps that lawyers can make sure you avoid.
I think that if a small business opts out of having a lawyer, it's because they don't want to spend the money on a lawyer, or they think they don't need one. Working with a good business lawyer to make sure your business is legally sound is one of the most important investments that an entrepreneur can make. Operating a business without having legal counsel is likely to cost you way more in the long run if something goes wrong. My goal as a business lawyer is to keep you in business, out of court, and making money.
Q: What is a common misconception about business ownership?
A: Maintaining your limited liability is something that is very important as a small business owner. Limited liability means that the business owner will not be personally liable for the debts of the business. However, just because you have a business entity setup (such as an LLC or a corporation) doesn't mean that you're automatically free and clear. Business lawyers can help make sure that the business is operating in a way that keeps the owners as separate as possible from the liabilities of the business.
To reach Attorney Thomas, visit www.daynathomaslaw.com or email dayna@daynathomaslaw.com.
To read the rest of the Q&A, visit us at www.ocgnews.com in the business section.