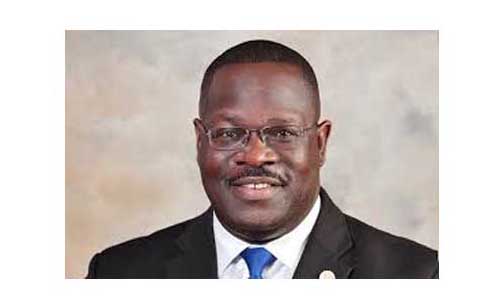 Pictured: BOC Chairman Oz Nesbitt
Bowing to pressure from the public, Rockdale County is removing the Confederate monument that stands outside of the Rockdale County Courthouse on Main Street,  On Common Ground News has learned.
Rockdale Board of Commissioners' Chairman Oz Nesbitt reportedly made an "executive decision" to have the statue removed at 10 tonight (June 30).
Nesbitt's decision comes ahead of a protest Rockdale County youths were set to hold on July 2 and follows public outcry from a number of citizens demanding the removal after Nesbitt said during a Board of Commissioners that the monument should be included as part of Rockdale's 150-year anniversary celebration this year.
Rockdale Commissioner Sherri Washington said  taking down the monument is long overdue.
"I've been advocating every since I was elected to office that the monument should be removed," Washington said. " I'm glad to see that the rest of the community has come together and agreed with me that this statute is a reminder of a heinous heart of our country. It has no business being in front of the courthouse, which should be a place for freedom and justice for all."