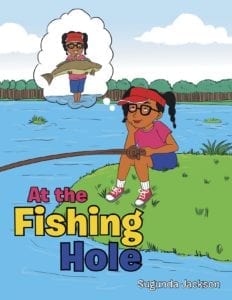 Sugunda Jackson is receiving kudos and positive feedback on her newly-released children's book, "At the Fishing Hole."
An "elementary educator in Atlanta, Jackson recently visited Roddenberry Memorial Library in Grady County, where she read her book to a group of children. A native of Climax, Georgia, Jackson has strong ties with the Grady County community.
Jackson's life in the small Southern agricultural town of Climax inspired her to write about her childhood there. Weekends with her grandparents modeled the simplicity of life and the precious moments shared with her grandparents.
Jackson says the book is a steppingstone to a movement she has launched. Eager to help children tap into their passions and dreams, Jackson says she is on a mission to encourage literacy one book at a time. With her platform, "SugaLuv Library Project," Jackson is encouraging families to create personal libraries in their homes for their children. She believes when children are exposed and modeled to reading, dreams are unlocked.
"At the Fishing Hole" is available for purchase at Amazon, Xlibris, Barnes & Noble.
For booking inquiries and more information, call 404-939-7621 or email sugaluvgroup@gmailcom.