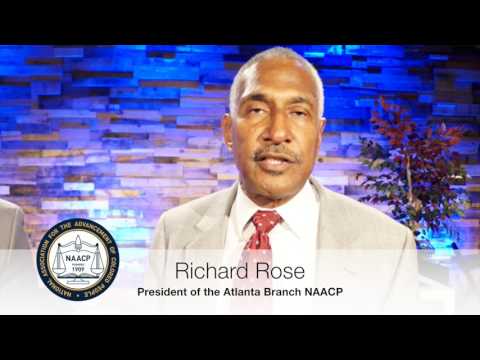 Richard Rose, president of the Atlanta branch of the NAACP joined the state NAACP today in calling for immediate change in policing and public safety policies in Atlanta and accountability at the highest level in the shooting death of Rayshard Brooks on June 12 in a Wendy's parking lot.
"We demand that the City of Atlanta admit that the police force has a police brutality problem," Rose said. "We call for the immediate termination of Chief Erika Shields who has demonstrated that she does not have the capacity to make systemic changes in her department to ensure a focus on public safety instead of public extermination."
Rose added that the NAACP is seeking a commitment from Mayor Keisha Lance Bottoms to begin a complete restructuring of the Atlanta Police Department and re-examination of every officer for fitness to serve.
"Failing that, Mayor Bottoms should
resign," Rose said.
"What does it take for Atlanta Police to understand that deadly force is met with deadly force. Over and over, actions by Atlanta police do not comport to the concept of public safety or public service?"
In its research into the problems of police misconduct, the NAACP has found that the Fulton County District Attorney has 17 open cases of police misconduct, 14 of which are in Atlanta and 7 of those involve deadly shootings.
"According to District Attorney Paul Howard, all of these cases are being stonewalled by the Atlanta Police Department who are protecting those who have demonstrated they are not devoted to protecting the public," Rose explained. "We understand that files are being released to the GBI instead of the Fulton County District Attorney who has jurisdiction."
The NAACP is calling for officers with three serious complaints to be taken off the streets, and in the case of any discharge of firearms, the organization is demanding that body and dash camera files be released after officers have filed their statements.
"Without holding our highest officials accountable and demanding action to force change, we can expect to continue seeing racism and disregard for black lives permeate policing in Atlanta and throughout the nation,"
Rose said.