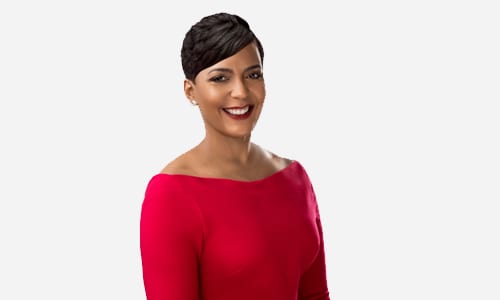 Mayor Keisha Lance Bottoms announced the establishment of the Center for Workforce Innovation, a jobs training program focused on outcomes-based education for high-demand careers.  The Center, which will be housed at Atlanta Technical College, is the result of a public-private partnership with the City of Atlanta, Atlanta Committee for Progress and Atlanta Technical College.
"Atlanta is internationally recognized for its dual focus on commerce and compassion," said Bottoms. "Our business and civic leaders have a longstanding history of working together to strengthen communities. As we now partner Atlanta's leading corporations with one of the nation's best technical college systems, Atlanta residents gain a newfound opportunity to acquire the skills needed to earn higher wages and better provide for themselves and their families. One of the pillars of our vision for One Atlanta is 'residents who are equipped for success.' The Center for Workforce Innovation is a remarkable stride towards that goal, and I look forward to seeing Atlanta's students graduate from the Center and into our workforce."
"The Center for Workforce Innovation has the potential to transform workforce opportunity in Atlanta, by engaging the most reputable companies to develop a talent pipeline for key sectors," said Larry Gellerstedt, Chairman of the Atlanta Committee for Progress, and Chairman and CEO of Cousins Properties. "This effort will advance economic mobility by offering life-changing career paths, while enabling generational impact by providing Atlanta residents access to high-wage jobs."
The Center's five partnering corporations will collectively invest an initial $2 million to pilot three career tracks including aircraft technical skills, information technology, and skilled trades such as carpentry and electrical construction and maintenance. The $2 million investment will support high-quality instructors, a tuition balance forgiveness program and wraparound services including transportation vouchers.  Year Up Atlanta and career tech-program Per Scholas will also partner to ensure that students obtain meaningful outcomes. In addition, WorkSource Atlanta, the City of Atlanta's workforce development agency, will provide tuition assistance of up to $10,000 to qualified students, and all students will be eligible for additional dollars through the HOPE Career Grant.  The Center for Workforce Innovation will launch its pilot program with up to 200 inaugural students in the fall of 2019.
"Atlanta Technical College and the communities we serve depend on innovative partnerships to ensure we are providing our students with every opportunity to succeed in high-demand career fields," said Dr. Victoria Seals, President, Atlanta Technical College. "We are honored to partner with Mayor Bottoms and some of Georgia's most successful corporations to empower our students with the knowledge and training required to be successful in Atlanta's competitive workforce."