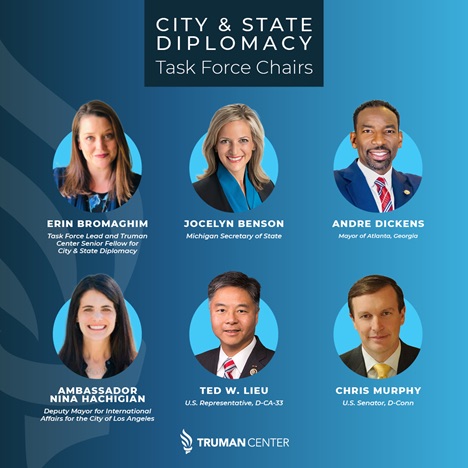 ATLANTA—Mayor Andre Dickens has been named a co-chair of the Truman Center for National Policy's new Task Force on City and State Diplomacy. Supported by the Open Society Foundations, this effort will address states, cities and other subnational actors as essential participants in foreign policy.
This task force will develop a series of recommendations to broaden diplomatic engagement across America, strengthen ties between the U.S. State Department and U.S. City and State governments, and deepen domestic engagement on transnational issues, including: climate change, migration, and trade. These recommendations will be developed by Task Force members, building on Truman's foundational work on subnational diplomacy, including the March 2021 report on Transforming State: Pathways to a More Just, Equitable, and Innovative Institution.
"As a global hub for innovation, commerce, technology, entertainment and so much more, Atlanta truly influences everything,"said Atlanta Mayor Andre Dickens. "Thank you to the Truman Center for the opportunity to serve on the Task Force on City and State Diplomacy, and for recognizing the important role cities play in shaping national and global initiatives."
"Truman is committed to advancing a foreign policy that draws on the strengths of many levels of government," said Truman's President & CEO, Jenna Ben-Yehuda. "This Task Force offers an opportunity to deepen and diversify relationships between federal government agencies and local, state, and tribal representatives, in the hopes of broadening domestic influence on foreign policy."
Erin Bromaghim, Truman Center Senior Visiting Fellow for City & State Diplomacy, and Director of Olympic & Paralympic Development for the city of Los Angeles, will facilitate the task force, with participating member co-chairs:
Mayor Andre Dickens, Mayor of Atlanta
Jocelyn Benson, Michigan Secretary of State
Ambassador Nina Hachigian, Deputy Mayor International Affairs, Los Angeles
U.S. Representative Ted W. Lieu, D-CA-33
U.S. Senator Chris Murphy, D-Conn‍
The task force report will be published in the first half of 2022 and address how U.S. cities and states currently engage in diplomacy and foreign policy and explore opportunities for capacity building and collaboration between these groups, the State Department, and partners around the world.
"City and state diplomacy offers an opportunity for us to think differently about how we carry out our foreign policy and how we make those policies deliver for the American people," said Erin Bromaghim. "I am thrilled to lead this Truman Center Task Force in exploring how we can strengthen ties between the state department and our local governments and communities around the country – and in the process – incorporate broader viewpoints, leverage new connections, and build more innovative, representative, and resilient engagement with our partners around the world."
To learn more about Truman's work on city and state-level diplomacy visit: trumancenter.org.