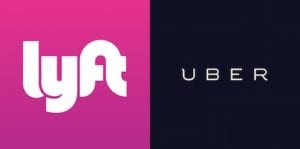 The Atlanta City Council has approved legislation legalizing and regulating pickups by rideshare companies such as Uber X and Lyft at Hartsfield-Jackson Atlanta International Airport.
The measure gives rideshare, taxi and limousine drivers the option of having fingerprint-based background checks or private background checks conducted. Companies that use private background checks would be subject to an additional per-ride security surcharge of $2.35 per ride, for a total surcharge of $3.85.
Under the new system, which would take effect Jan. 1, 2017, the airport would charge a $1.50 fee per ride for pickups at the airport by ride-share services — the same fee paid by taxis.
Each ride-share company would also pay an annual permit fee of $50 per vehicle, up to $100,000 maximum per year.
A ride-share assembly area will be set up for ride-share drivers.
Ride-share vehicles and taxis cannot be over 7 years old, must display an airport decal when picking up at Hartsfield-Jackson.
The legislation legalizing rideshare operation at the city-owned airport was approved by a vote of 14-1.
"I've been a longtime supporter of Uber and Lyft since their initial entry into the Atlanta market," said City Councilmember Kwanza Hall. "I have used the service at airports around the US, in many countries around the world; even mostly recently in South Africa.  The ease and efficiency of accessing transportation is something that the world has come to enjoy.  I am pleased that we are finally able to offer this wonderfully benefit to travelers and employees at the most traveled airport in the world."
City Councilmember Mary Norwood agreed.
"The City Council's decision to allow Uber and Lyft to meet passengers at our Airport will give our citizens and visitors important transportation choices," she said.
In other action, the Atlanta City Council approved a resolution by City Councilmember Michael Julian Bond requesting organizers of Class "A" Outdoor Festivals have a designated pick up area for taxis on a street adjacent to the festival.
The City of Atlanta issues permits for several large events annually that attract thousands of attendees each year. Class "A" outdoor festivals (as defined in the City of Atlanta Code of Ordinances, Section 142-59(a)(l)), typically draw crowds of over 50,000 attendees.