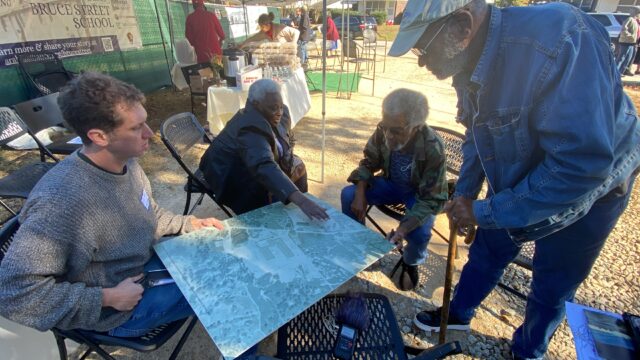 Update: Due to expected cinclement weather, the meeting date has changed to Dec. 12, from 1 – 4 p.m.
LITHONIA—Arabia Mountain Heritage Area Alliance(AMHAA) will host its second community engagement session to determine the future of the historic Bruce Street School site, DeKalb County's first public school for blacks. The outdoor, drop-in meeting will be held on Sunday, Dec. 11, 1- 4 p.m., at the former school site, 2449 Bruce St., Lithonia.
The three-hour drop-in session will feature several activities to gain community feedback on how the ruins of the former school might be preserved as a historic destination.
During the first community engagement session, which was held on Nov. 14, stakeholders toured the site, participated in activities designed to stimulate ideas and shared stories about the school with the team members who are working on the project.
The school, which served all grades, was built in the late 1930s, witnessing its first graduating high school class  around 1943. Three class included three pupils, according to historic data.  By 1968, the Bruce Street School was closed. A fire had destroyed much of the structure, leaving the granite frame of the structure.
The upcoming community engagement session is open to the public. Learn more at: arabiaalliance.org/brucestreet.
Photo above: Former students of Bruce Street School look over maps of the school during the first community engagement session, which was held on Nov. 14. Photo by Glenn L. Morgan/ocgnews.com