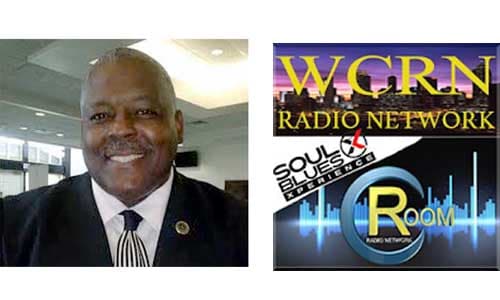 STONECREST—Talk show host Amos King invites viewers and listeners to the re-launch of  "The Amen Corner" this evening (Sept. 11) at 7 p.m.  on the WCRN Radio/TV Network.
After nearly a two-year hiatus, King is bringing back the program on internet radio and television on the WCRN's network. The show will be broadcast from the C-Room located in the City of Stonecrest.
"We're looing forward to being back on the air. We're inviting everyone to tune in. It's going to be live!" said King, who discusses everything from politics to community issues, entertainment, business and beyond.
Tonight's guests include acclaimed Atlanta-based sculptor Kevin Cole, a Pine Bluff, Arkansas native who uses neck ties for his abstract works exploring themes and experiences of black oppression from present day issues to past injustices. According to Cole's web site, the curvilinear twists, knots and loops of his sculptures represent the ongoing internal and external conflicts of those who toil and triumph against the odds and unheralded tragedies of life.     
Victoria Birdsong also will be a guest tonight. She will discuss her incredible invention to help students learn cursive writing, which is no longer taught in public schools. Birdsong, who lives in Riverdale, is an undergraduate of Fort Valley State College and a graduate of the University of Georgia who works in the agriculture sector. Birdsong is married and the mother of three.
King said the Sept. 18 show will welcome City of Stonecrest Mayor Jason Lary, who will discuss economic development.
To watch live on your iPhone, go to your app store and download the C-Room Radio Network and click "C-Room TV" Watch Live.
Below is the link for the Google play store for android phones as well:
https://play.google.com/store/apps/details?id=com.nobexinc.wls_5174883134.rc