DEKALB COUNTY, GA—Over the weekend, Aaron "A.J." Hawkins stopped by his alma mater, Martin Luther King Jr. High School, to break bread with his beloved Lions football team. Hawkins, a former offensive lineman who graduated from MLK in 2008, and his family provided the team and coaches a catered pre-game meal on Friday, Oct. 27.
The Hawkins Group, comprised of businesses that are owned by Hawkins' parents, Aaron and Mia Hawkins; his sister, Jade Hawkins; his wife, Michele Hawkins; and IHawkMedia, which "A.J." Hawkins owns, thanked Kenley's Catering and Sandwich Shop for preparing and delivering the hot meal.
Hawkins said it was great visiting his high school and fellowshipping with MLK's Head football coach, Joel Kight. He and Kight were teammates at MLK and at the University of Mississippi. Now, here they were together again, giving back at their high school alma mater's football program.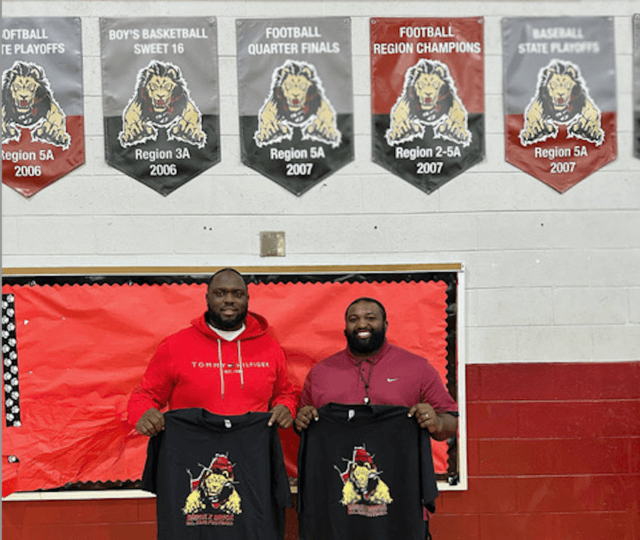 A.J. Hawkins and MLK High's head football coach Joel Kight show off team shirts designed by iHawkMedia, which is owned by A.J. Hawkins.
"It's a great feeling to be able to take care of the guys who are sitting in your shoes and walking the same paths that we did years ago," said Hawkins, 33. "For me, it's all about family. The team is my football family and I brought my, Aaron Jr., with me lbecause I wanted him to experience what it's like to be a part of a football family. I want him to learn how to give back to those who have helped you."
The pre-game meal also provided a chance for the team to get up close and personal with "A.J." Hawkins, their "family member" who designed MLK's 2023 football team shirts. Hawkins designed the team shirts under his marketing company: iHawkMedia.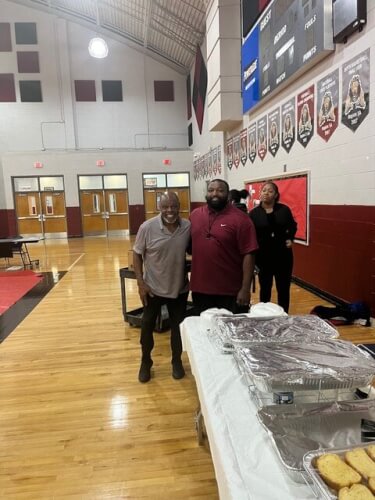 Hawkins said that he drew his inspiration for the design from Coach Kight, who expressed how he wanted to re-build MLK's football program.
"I got on a call with Coach Kight who described his vision for the season—that they were going to build the program back up brick by brick," said Hawkins. "I just wanted to come up with something cool looking that embodied the ferocity of what MLK football means and I used bricks to create the design.  I'm honored that Coach Kight gave me the opportunity, truly grateful."
In addition to designing the team shirts, iHawkMedia created the logo for MLK's Alumni Foundation. His company has created a number of recognizable logos in the community including the logo for On Common Ground News.
Caterer Kenley Waller (left) is pictured with Coach Kight.
Photo top of the page: A.J. Hawkins is pictured with his 6-year-old son, Aaron Jr. and members of the MLK High Lions. Below: Logos for The Hawkins Group