AKA's Chi Tau Omega Chapter pitch in for community outreach in Rockdale, Newton counties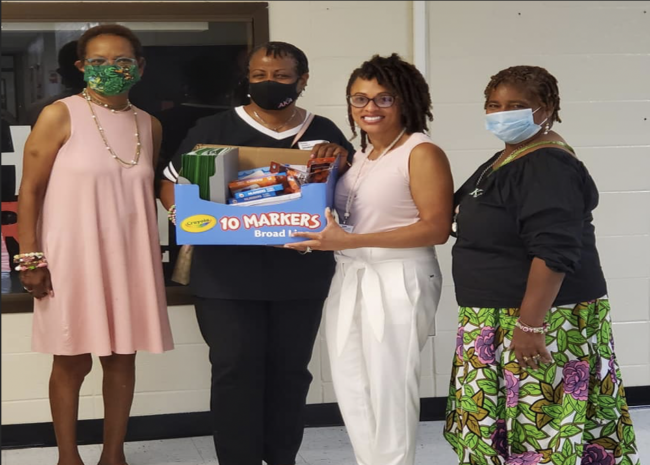 For some, a summer hiatus means taking a break, but not for the Chi Tau Omega Chapter of Alpha Kappa Alpha Sorority, Inc.® The sorority was busy with community outreach projects, which included distributing school supplies in Rockdale and Newton counties, as well as promoting a COVID-19 vaccine event for residents in both counties.
In July, the chapter partnered with Voices of Faith Church's Conyers campus to distribute books during the church's Back2School Book Bag Give Away. Members also supported Newton High School during the Newton County Sheriff Department's Annual Back2School Book Bag Give Away and attended the Open House at Livingston Elementary School. The chapter distributed books to returning Newton students, and donated a box of school supplies to Principal Yoli Curry-Howard during the open house.
In June, chapter members distributed information about a free COVID-19 vaccination event that took place at Springfield Baptist Church in Conyers. Members handed out flyers about the event at at Nana's Chicken and Waffles and The UPS Store on Hwy 212, as well as Ma Lena's Soul Food & BBQ Restaurant in Newton County.
The chapter is hosting an informational session  to discuss the  college admission process for high school juniors and seniors on Aug. 24. For more information, email cap@chitauomega.com.
Photos and release provided by June Hawkins-Jones