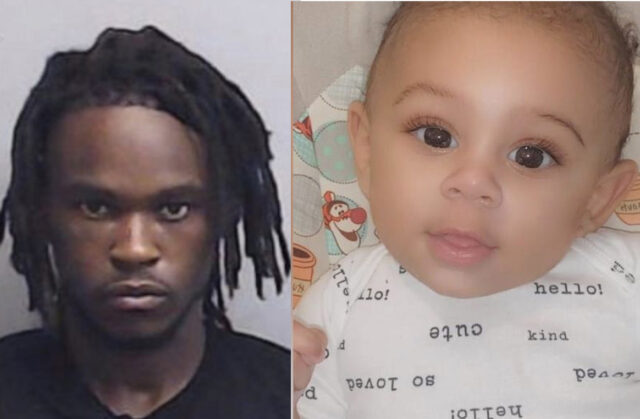 ATLANTA — Atlanta police announced on Jan. 25, that a 22-year-old man has been arrested in connection with a drive-by shooting that left a 6-month-old child dead.
The shooting occurred on Monday, Jan. 24, around 3 p.m., near the Food Mart store on Anderson Avenue in the Dixie Hills neighborhood in northwest Atlanta.  Police said the baby was shot while riding in the backseat of a car. The child was identified as Grayson Matthew Fleming-Gray.
The child's mother told WSB-TV that she was pulling into a parking lot when the shooting occurred.
The suspect, Dequasie Little, was arrested less than 24 hours after the incident and charged with felony murder and aggravated assault.  Police said information from the community helped lead to the quick arrest after investigators released a surveillance video of a Jeep SUV, which was a vehicle of interest in the case.
"Gun violence is out of control and we're going to put an end to it here in Atlanta," Mayor Mayor Andre Dickens said during a Tuesday news conference .
District 9 Council member Dustin Hillis issued the following statement on Jan. 25 following the suspect's arrest:
"The tragic loss of Grayson Matthew Fleming-Gray is a heartbreak that no parent, community, or city should have to bear. As a father of two young children myself, my heartfelt condolences go out to his family and loved ones. As the chair of the Council's Public Safety Committee, my colleagues and I are working with Mayor Dickens and the Atlanta Police Department on multiple efforts to reduce crime in our city, especially gun violence. At yesterday's Public Safety Committee meeting, we set the committee's 2022 goals and objectives, which include a number of measures we feel will better public safety in Atlanta. That starts with getting more officers back on our streets, proactively patrolling our neighborhoods, and doing true community policing," Hillis said.
District 3 Council member Byron Amos released the following statement:
"After hearing the news of the deadly shooting that happened along Anderson Avenue, I was deeply disturbed, and my heart went out to the family of Grayson Matthew Fleming-Gray. Safety in our city must remain a top priority and I will continue to work with my colleagues on the Council and the community to make sure that this violence stops not only in my district, but throughout our city. I'm very appreciative of the Atlanta Police Department in arresting a suspect, and I want to express my gratitude for their hard work and due diligence in this case," Amos said.
John Schule, a family relative, has set up an "Ever Loved" fund on Facebook to assist the child's mother. In lieu of flowers, contributions are requested.
Above photo of baby  Grayson Matthew Fleming-Gray, via Facebook.